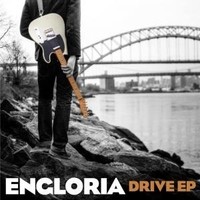 Engloria are an alternative rock band from Albany, New York who have modeled their sound based on successful acts like Gin Blossoms and Goo Goo Dolls, although Engloria inject even more pop and "emo" into their sound. Made up of brothers James and Brandon Stewart, Michael Gleason and Devon Scott, the guys have been enjoying copious amounts of airplay and have also been touring quite often. I'll state from the get-go here that Engloria are playing it safe and reading the cue cards here. Don't expect alternative rock that is in any way "alternative", or new. This is music that your 12-year old could listen to – an alt rock boy band. I say this for full disclosure, because alternative rock as a term can range from innovative acts like Smashing Pumpkins all the way to Nickelback.
"Drive" is Engloria's bid at a hit single, and it could very well achieve this goal, although lead singer James Stewart's delivery is nasal almost to an extreme, and this may isolate some pop fans. Pop punk and emo fans, however, will definitely enjoy the natural quality of his voice. The musicianship is high quality and the production sounds great. This song sounds like a Goo Goo Dolls track, and it's radio-ready. Whether you enjoy it or not will depend on if you enjoy the Goo Goo Dolls.
"Out of Love" switches the pace with a ballad, and they set a pleasant mood here, although it's difficult to understand what Stewart is saying at points as he mumbles his lines. In all fairness, he is attempting his own unique delivery, and I have to commend him for sticking to it. He's in key and follows the band's dynamic shifts well. The guitars and rhythm section are somewhat similar to the rendition of "Wonderwall" by Oasis, and the band does a fine job.
"Made for You" brings more of the same mood; well-executed and with a big chorus. This could be an anthem of sorts for the emo music fans and the band do a stellar job with the slow burning groove.
Engloria don't have any major missteps on their "Drive" EP. Unfortunately, they don't really have any steps either. It comes across as 3 songs crafted with the sole goal of reaching a targeted demographic. At risk of being overly critical, I'll state again that fans of emo, American Idol and radio rock may enjoy this release. The band has talent. I'll leave it at that and let you be the judge.