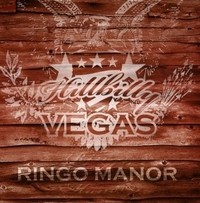 From small town Oklahoma with a vengeance, southern rock/country act Hillbilly Vegas are creating a serious racket with "Ringo Manor", an effort that was produced by Richie Owens (Dolly Parton, Vince Gill). It seems that Hillbilly Vegas have been gaining speed on the merit of their original tracks; they've landed a management deal with Ben Ewing and a contract with Red Dirt. "Ringo Manor" is affectionately named after the home studio where the band wrote and recorded the first initial demos to start the whole process.
"Shake it like a Hillbilly" is a statement of purpose. Not a serious purpose, or one with any kind of idealogical, political or intellectual agenda. You can turn on the evening news for that. The purpose is to get rowdy, stomp your feet and maybe break a few beer bottles. Drink some Wild Turkey, perhaps some not-so-legal substances, head to the country bar and see what happens. Mainstream or not, you have to appreciate how genuinely catchy this track is. Vocalist Steve Harris can wail, and the band can rock. "Shake it like a Hillbilly" is a definite hit.
I thought their next move would be to slow the pace, but boy, was I wrong. "Oklahoma" keeps the pace up, and in some ways ups the ante. Southern rock combined with a dash of Guns n' Roses is something I can get on board with. Hillbilly Vegas take the country genre and add some much-needed badass. While their approach is at times cheesy, that's not the point. The point is that it wins you over. This is good time, party rock. No scrooges allowed.
"Little Miss Rough and Tumble" tries the ballad format, and it's fine, although it would most likely lose some of the rock fans. The musicianship and production here are incredible, with gorgeous keys, melodic guitars, gospel backups and a soulful lead vocal. "Helluva Night" is pure twang, a stream of consciousness with enough swing to fill a dance floor over capacity. You can hear the band's quality songwriting process here, and they keep things raw and bluesy without any fluff. "Broken" lays on the schmaltz thick. Typical of the album, it sounds fantastic, but it could very well be Enrique Iglesias recording and performing it. This is what the mainstream radio format demands, and while it's unfortunate this catering needs to happen, you can't fault the artists when it's us, the fans, who demand these songs over and over again. The performance is strong, but it's a difficult listen if you're not an adult contemporary fan.
"Grits N' Gravy" gets wild, as Hillbilly Vegas ditch the industry advisors, recapturing their own chosen sound. Steve Harris rants and raves on a track suited perfectly for a good brawl. "Wrong Side of Goodbye" is a solid country ballad that is extremely catchy but also maintains it's authenticity.   "Faces Change" is an addictive storyteller's song, a hit with depth. This is a definite favourite, and the band shows that they can really get through to the listeners here, and not just party with them. "I Already Know" is similarly well-written and infectious. The rhythm section are absolutely perfect and the music itself is as rich as can be. "From An Empty Room" is another fast-paced Americana/country track that shows off the melodic aspects of the band.
"Mason Jars and Moonlight" brings a slight metal influence, with some minor note progressions and heavy distortion. Taking a page from the Guns n' Roses/Ozzy Osbourne book suits Hillbilly Vegas just fine. It's part of what makes their sound unique.
"Ringo Manor" is a very impressive country/southern rock release that could very well make Hillbilly Vegas stars. With a charismatic lead singer and a flawless band, they are definitely a band I'd like to see turn it up loud when I visit Oklahoma. I'll just bring a helmet in case someone decides to break a bottle over my head.