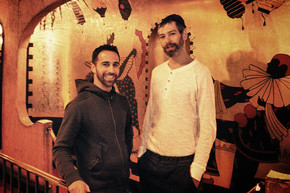 "To Give" (featuring Matisyahu), the Second Single from Critically Acclaimed Album Can't Quit, Continues Focus on Positive Message and Giving Back.
Following a successful and widely-hailed launch of the title track single off the Can't Quit album, international recording artist, My Silent Bravery today released the much anticipated follow-up single, "To Give" featuring platinum-selling recording artist Matisyahu. The video for the song was also released today.
"To Give" has already begun to make tracks at radio, picking up spins at stations across the country. The video for the single "To Give (featuring Matisyahu)" with animation provided by Plainly Simple Studios was launched March 5, 2012. The video picks up where MSB's last video left with its positive and inspirational message, this time focusing on giving back to the community and world at large. In keeping with the message of the song, My Silent Bravery will donate a portion of proceeds to charity. The video can be viewed on YouTube.
[youtube vOc29pNSQzc nolink]
When asked about working with Matthew Wade, Matisyahu said the following: "I think the message in Matt's music and especially the song "To Give" is a very positive one that I am happy to support. I've always been about crossing musical boundaries so collaborating on this song was a natural fit."
The new album, Can't Quit, continues to rack up accolades and was nominated for album of the year at Indie Music Digest (indiemusicdigest.com) The music video for lead- off single "Can't Quit."
[youtube 4KGZVPqS67Q nolink]
The video has already amassed nearly 300K views on YouTube and was recently featured on AOL Music Homepage (link to video). "Can't Quit" also picked up honorable mention for the songwriting competition, Song of the Year, which receives entries from all over the world.
The Cant Quit LP is available at iTunes (http://itunes.apple.com/us/album/cant-quit/id446264369) and other major online retailers. It features the tracks Four Years, Alright, Can't Quit, Burnt Out, To Give (featuring Matisyahu), Ms. Definite Maybe, Last One Left, Burnt Out (Acoustic), Can't Quit (Acoustic) and Today is Tomorrow's Yesterday.    
MSB will be supporting multi-platinum recording artist Howie Day on tour this spring.