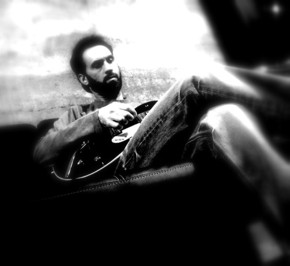 Man am I excited today. I am two days away from turning 33 and SXSW is next week. Last week a press release went out about a book that knocks SXSW and I just felt like the independent musi scene does not need that right now. We are growing by the day and festivals like SXSW will only make it stronger. Skope will be at SXSW and I hope that everyone that attends knows that I see you as musical revolutionaries. Today I am honored to have another revolutionary that goes by The Implants but Mike Burns is a one-man band. The Implants has been doing music for over two decades and he recently released his third album 'Generic Genius.' I will be definitley be playing this album Thursday night at my party! Join me today as The Implants talk about everything from his recording studio, the new album, being a one-man band, and much more!
Stoli: So where are we talking from today and were you excited to be interviewed on Skopemag.com?
Mike Burns: Get out your globe, put your finger on the 45th parallel and drag it to an awesome place called Traverse City, Michigan USA. That is where I live. And, I am super excited about this interview. I've been a huge fan of   Skope Magazine for years. I mean, its the only magazine I've kept under my mattress since I was fifteen. No wait a minute, that was a different magazine. Seriously, I am absolutely thrilled and honored to be interviewed   on Skopemag.com. Truly a class act.
Stoli: Why did you go with the name The Implants for your band?
Burns: In my early twenties I had Cataract surgery in both eyes. I guess I had Cataracts since birth but didn't know it. My corneas   were removed and replaced with plastic implants. Its something that I never forget about because it was a complete suck-fest of an experience, and I am reminded they are there when the light hits my eye just right. Even though I'm essentially a solo artist, I wanted a band name. Its a simple name, and it goes well with the type of music I create.  
I think I knew it was solid when I wrote it down and saw it for the first time. The Implants. Yep, still looks good.
Stoli: How do you like being the only member of the band and do you get along well with other musicians & their opinions?
Burns: Being the only band member is awesome. It keeps me on my toes. Taking care of every aspect of the music can be a bit much, but I can do it all on my time. So, I can take it easy. Things get done when there done. Yeah I work alone, but I do get along very well with other musicians and I do value their opinions. Most of my close friends are in bands. Being around other musicians seems to stimulate my creativity, giving me new ideas and techniques.
Stoli: What kind of set up do you use in your studio where you create your music?
Burns: Man, I'm a freak about studio gear. Quality is the name of the game. My studio (dubbed 'The SoundThing') is an advanced music production studio fully equipped with all the goodies necessary to produce great sounding music.
I work with Cubase recording software on a PC, Klipsch monitors, Studio Projects mics, and of course my Gretsch guitar.
Stoli: I am playing 'Generic Genius' right now. Its upbeat & high energy. How long were you working on putting all those tracks together and what is a Generic Genius?
Burns: Fantastic question. The title "Generic Genius" came to me via the magic of Facebook. A friend tagged me in a photo from 8th grade in some class room (looking all skinny and dorky with braces…sweet), anyway, on the wall above my head was a sign that said 'Generic Genius'. I don't remember what it meant at that time, but I knew it was a song title instantly. To me it means someone exceptionally good at average tasks. "Generic Genius" the song (in it's rough form) happened quite fast. However, I think it took a few months to tweak it to where I was happy with it. Then I go and remix it, and now I'm partial to that mix.
Stoli: After you create a new song who are the first people you let listen to it?
Burns: With the 'Genius' CD, I let my close friends get the sneak peek before I would go public with any given tune. But I think with my new material, I will post on my website or my Facebook page to let my fans get the first taste. There is usually some lag time between when I finish a song and when I let people hear it. I have to let it soak into my bones first.
Stoli: What comes first for your tracks, is it the vocals or the instrumentals/beats?
Burns: Beats come first. Sometimes I get too close to what I'm working on, and I need to back away for a while. So I play 'musical free association' producing off   the cuff beats and bass lines that usually end up being my favorite songs. Beats   come first, bass and guitar tracks next, then I write the lyrics. The more I try   to push it in a certain direction, the more it goes against the grain.  
Stoli: Would you ever consider producing music for other bands or artists and if so what do you look for in them?
Burns: I would love to produce music for other bands. What would I look for in said bands? Musically, I would like to work with seasoned artists in the Rock genre and I would want them to trust me and be willing to work with my interpretation of their music while still delivering they're message. Some bands are very adamant about the way they want their music to be produced, when sometimes they don't really know the 'ins and outs' of producing.
Stoli: How did you get your track "Funky Monkey" in the movie 'I Wish'?
Burns: Again, the internet is amazing. To the musicians who read this I have one tip; Get your music out there. I had put my music to be heard online basically for fun, to test the waters to see if my music would be embraced or dismissed. It  
seemed to go over pretty well. An independent record label from California (GoDIY Records) took an interest in my music and contacted me about joining the GoDIY family. I said "hell yes". Soon after signing, Tim Keeler from GoDIY Records  
introduced me to Jim Idema of Brandella Films. Jim was looking for Michigan artists to submit songs for the soundtrack for his upcoming movie. Jim loved the song "Funky Monkey" and agreed to feature it in the movie. Very cool stuff.
Stoli: If you could speak with the President and the GOP Candidates what would you want them to know is important to you?
Burns: Well, I'll be honest. I'm not big into politics. However, I'm 38 now and I've been self-employed since I was 19. So, I would have to say that giving better incentives for small business owners would go a long way to rebuilding this country in this down economy. I guess that is what is important to me.
Stoli: Whats coming up for The Implants and where you @ online?
Burns: "Generic Genius" is available everywhere online now, and hopefully by summer 2012 I will release The Implants "Generic Remix" album which is a four track CD with   remixed songs from the 'Genius' CD. They are really cool mixes and I am stoked about that release. Another full length CD is under construction. I have about 7 new songs at various stages of development and I'm thinking 2013 will bring The Implants new   CD. Online, The Implants can be found at;
www.implantsmusic.com
www.facebook.com/theimplants
www.reverbnation.com/implantsmusic