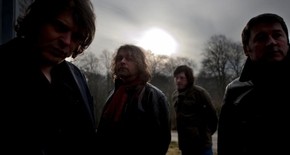 They hail from England, the deliver pretty solid sounds and their debut album, Eleven, was favourably reviewed on this very site only last week click here to read. What is there not to like about this modern day fab four? Their enthusiasm for what they do is depicted in their songs and while this recently formed group may still be defining their own eclectic musical personality you know the future is shining bright.
Skope caught up with three of the four guys who make up Circuit 68 to get some info on how Eleven came to be.
How long did it take you to make Eleven?
Gary Miller: I started writing my songs for 'Eleven' in2009. The recording process was over 16 months with rather large gaps due to trying a keyboard player and a go-go dancer called Martin. We tried a studio to record but we weren't happy so we built one in a shed. It's called Shabby Road.
Neil Colwell : As Gary says — took around 16 months. We built the studio during the recording process as we couldn't find any studio we were happy with — so we got our own!
Darren: the songs arrived pretty quickly , It was the process of recording and getting the sound we were looking for that initially took some time. I think we were all determined to try and replicate the sound we had in our heads and it was definitely worth the extra effort. I know we were all pleased with the results.
Did you have any idea where this album was going to end up when you started it, in terms of content, length or was it just running with it?
Gary Miller: Honestly, at the start, no. We knew that we really wanted to make an album. Pretty quickly, one song followed another. Perno Inferno was first. 'Eleven' was written within 6 months. We discussed an album concept of a young man going to war and with us playing out his life from being born, growing up as a teenager, joining the forces and returning and struggling to adapt as a consequence of war — It was there but the final track we recorded was shelved as it was a handful – a sonic explosion in your ears. We decided that the songs spoke for themselves and we perhaps weren't quite ready for the 'concept album' just yet.
Neil Colwell — A bit of both really — the songs weren't written to be in any way related to each other — apart from the obvious band vibe — we did sit back for a while and thought about a concept as the songs did lend themselves toward that. We even wrote a furore of an end track that would blow your ears off! However we thought better of it and shelved that particular train of thought. We did include the Sitar track that was part of that 'shelved project' however (which was recorded live in a toilet — I joke not!)
Darren: When we all first got together I was very excited to find out what sound we would collectively make and pretty early on in the process there was a definite Circuit 68 sound which began to emerge. Having lots of shared musical influences as well some really individual musical likes, eventually made the results even more interesting  
How many tracks did you actually record for the project?
Gary Miller: We generally record on 8 track first to develop the song, then rehearse it. Not all songs evolve the way you would like in the rehearsal room. The ones that really did are to be heard on 'Eleven'. Around 18 were written. There's some very interesting stuff in the archives for the C68 hardcore!
Neil Colwell — Around 18-20 — officially — lord knows what's kicking around on peoples 8 track recorders, notebooks etc. It'd   make a good anthology!
Darren: Lots of music was written but I personally thought that the tracks, which eventually ended up on the record, picked themselves. One of the strengths of the band is the honesty with which songs are appraised. If the song doesn't inspire excitement in all of us we usually put it to one side and look for something that we're all into. I definitely think this is an excellent way of sorting the wheat from the chaff as they say.
Being that Eleven is your debut did you feel any pressure in creating it? If so how did you deal with that pressure?
Gary Miller: No pressure with perhaps the exception of trying to mix it. We recorded 'Eleven' ourselves so therefore there's no clock watching. I did try and mix the album on a diet of bananas but I basically locked myself in the studio and went insane at one point. It was time to call on the '5th Circuit'..our dear friend Gop who mixed 'Eleven'
Neil Colwell — Recording an album yourself does take the pressure off the recording process somewhat — there wasn't an 'official deadline' but we didn't want it to take forever!   Gary stocked Fyffes out of Bananas several times and took on several alternative personalities during the mixing process, so we called on the fifth Beatle 'Gop' to mix it for us — he knows the band very well and we could rely on him to hit 'our sound'
Darren: I had a ball and didn't feel any pressure whatsoever. How could you feel any pressure being able to do what you love doing. It was a blast and hysterical at times.
60 Guineas to Bombay is reminiscent of that Marc Bolan — T Rex sort of vibe, where did the inspiration for that song come from?
Gary Miller: Interesting! I have never made that correlation. I set out really to write a rhythmic beaty garage song. I adore 60's R & B band The Pretty Things and I was listening to their record SF Sorrow ( a masterpiece!) at the time. Basically the story of an ex army lad who returns home…gets involved in naughty stuff, runs away with his father's savings. 60 guineas to be precise!
Neil Colwell — I'd never made that link to be fair! I suppose I can see it now you mention it — I thought it was born of 60's garage, Brian Jonestown Massacre vibes to be honest.   Gary wrote it — a classic tale of a life spinning out of control.
Yet singles such as Coming Home are quite emotional and not quite as say boisterous as 60 Guineas to Bombay, do you think that variety is important when it comes to debut albums?
Gary Miller: It can be, as long as there is flow and it doesn't resemble a friends mix tape. The songs in question are very different but are clearly the same band 'that C68 sound' you might say?
Neil Colwell — We're very honest with each other when it comes to ideas.   I think honesty is important rather then pre-conceived variety. If we honestly like it as a band — then it's a Circuit song!
Darren: Variety is the spice of life as the old cliché goes
Lyrically people want that catchy chorus when hearing a new song. What do you think makes a good song?
Gary Miller: Hooks, great rock n roll guitar, 60's go-go backbeat/groove and great lyrics. Usually in that order for me.
Neil Colwell — (Laughs) I have a longstanding joke with Gary that he only likes anything with a 60's go-go back beat (laughs). I think if it's conveying something people can relate to then it doesn't need to have a catchy chorus or whatever. A song can place you somewhere — and that's different for everyone. People mentioned the sentiment in ' Love will find you' as something they can relate to. We don't go out to intentionally write catchy tracks or a particular genre. It's just that honesty coming through I suppose.
Darren: I personally love a good melody and in terms of a song's structure, the chorus is where it's at. I reckon if the chorus grabs you very quickly and the whole song takes you somewhere it's got to be doing its job
In terms of writing you cover quite a lot of ground with Eleven, where did your inspiration come from for this album?
Gary Miller: Everything you feel. Most of the songs I wrote for 'Eleven'   were drawn from personal experiences. Coming Home was about being in New York and being too far away from my wife Annie. Let It Go for example was the personal effect it had watching the second plane hitting the twin towers – 9/11. Again, New York bizarrely.
Neil Colwell — I second what Gary says on this — it's about relaying personal experiences for me. My two penned songs, 'What Gives' and 'Love will find you' certainly fit that billing.
England is famed for delivering some of the best rock/guitar based music ever, who would you as a collective say you are most comparable to?
Gary Miller: Wonderful isn't it! We have little else to export these days. Strangely though, I'd say The Monkees..Well Davy Jones was from Manchester wasn't he?
Neil Colwell: Wow that's difficult. Er…I see the Monkees link..People have mentioned bands like Teardrop Explodes and The Icicle Works, that Liverpool 80's scene…I dunno — I quite like the idea that I just don't know!
Darren: That's a bit of a loaded question. I'd be happy just sounding like Circuit 68
Circuit 68 – "Let It Go" @ http://soundcloud.com/ssmusicco/circuit-68-let-it-go
Obviously Eleven has just been released and from what your publicist tells me is doing pretty well, is there a follow up in the works? And if so what do you hope to deliver to fans in the next album?
Gary Miller: Writing started in January and is going unbelievably well. I'm immensely proud of 'Eleven' but I do believe from the early rehearsals of the new material that the second if going to be the greatest rock n roll record ever made…wink wink.
Neil Colwell — We're writing really lots really quickly at the moment. It's strange releasing an album, I've found — as the songs to us are established and very familiar — whereas it's totally fresh and new to the people buying the record. We're moving on quickly with our new stuff. I think it's another step up for us as a band.
Darren: The next album is hopefully going to blow people away. I'm incredibly excited with the variety and quality of music that we're working on at the moment. The songs are coming thick and fast at the moment and I'm blown away by the quality of the other fellas' writing. I think the release of 'Eleven' has given everyone a boost and taken writing to a different level.
Buy Link http://www.cdbaby.com/cd/circuit68
Live performance is basically where acts are able to make money these days, what songs from the album do you feel get the best response when you play them live?
Gary Miller: Perno Inferno sets out the stall. It's generally our first song live. The driving riff of Let It Go gets the crowd rocking. It's great to see a reaction from people watching Neil sing his What Gives track as it shows the band have diversity and that particular song has even more power live. 60 Guineas has that 'bounce'. I usually go for a fag or start packing my gear up while Darren plays The End.
Neil Colwell — Perno usually leads the set — followed by Let it Go — Start as you mean to go on! I love playing live! — I have to stay around for Daz's 'The End' as I play on it — session men are too expensive.
Darren: Perno inferno,   Let it Go and Bombay  
 
I am sure you have been asked what is your favourite song from the album, but as a group what would you say is the track that has the potential to be heard on radio and see on TV?
Gary Miller: I do like Let It Go but actually Darren's song The End strikes a chord. Dylanesqe and with the haunting electric guitar in the background it's an excellent song. A real songwriters song.
Neil Colwell — probably 'Let it Go' It has just about all the elements in it that make up a Circuit 68 song. Rockin out -= 60's vibe — Sitar — Air Raid Sirens!
Where do you guys go from here? What do you have in the works?
Gary Miller: Well I'm off round the newsagents for some milk. Seriously, bigger, better, faster, stronger. Do we have we better songs than 'Eleven' …yes!…I love the prospect that difficult second album. Watch this space…and come to a show!
Neil Colwell — I have a car headlight off — so I need to get that sorted, what with the dark nights. Haha We've got a new batch of songs — and we're being more creative — trying more things — opening our minds to different vibes so to speak!
Darren: A fantastic second album, a notoriously difficult thing to do but we're enjoying the process even more than the first time round…if that's possible.  
By: Lara Croft — Crate Raider