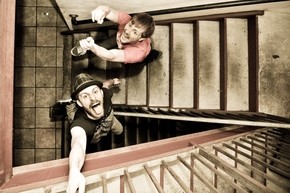 "'Philadelphia: For Better or Worse' is what I always say," remarks BEN RUNYAN, one half of the electro surf pop duo CITY RAIN. "I was born here, I grew up here, and I live here. This city has lifted me up and driven me into the ground, but I always come out of it a new person." It's fitting therefore that the city has become the focal point and object of affection for the band's new video, "REAL GOOD" (which uses the "So So Good Remix" as the bed).
The original, taken from the I'm Gone EP released last Fall, is a triumph over adversity that illustrates the moment and feeling of being able to walk away from a broken relationship without harboring negativity. "I get to be Del Shannon here," Ben laughs of the original version. "Big throwback to the 60s with this one, and a very Joy Division-inspired bassline. This was our first happy track, and it makes us happy."
[youtube CSZtDY7SXOI nolink]
The "So So Good Remix" is a perfect slice of old school New Wave with a healthy dash of surf-laden modern electronica.