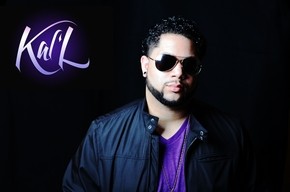 KAL'L is an upcoming R&B/soul singer with a smooth voice and a story to tell. The production of his debut is nothing less than a perfect blend of delicate and slow jam, this minimalist approach brings out the lush harmonies and vocal dynamics necessary to deliver these personal messages between lovers.
Q. Soul music is a tough genre to pull off authentically, do your lyrics come from personal experience or from a collective awareness? I read that you're a 'storyteller' and that's why I ask.
[youtube 1RUjbpXOAVA nolink]
A. I write from BOTH. History has shown that EVERY great songwriter from BabyFace to Ne-Yo has written from things they've gone through. So that's always where I start when looking for concepts for a song. But seeing how I'm only 26, i cant really say I have a vast library of personal experience (laughs), so I take from situations I see and hear as well.
Q. What led you to decide to pursue this type of music? does your heritage have an influence on your musical choices?
A. There's always been something about harmony that has always soothed me. The best harmonies I've ever heard were always either POP or R&B. As far as heritage goes, my father introduced me to a lot different types of music, but I'd always catch him zoning out to Spanish slow jams. Thus the reason why I became a ballideer.
Q. You have a great production, did you produce this yourself or do you work with a production crew?
Kal'L Feat Qewl Miles "Whisper" MP3:
http://k003.kiwi6.com/hotlink/zuw2j1bf62/whisper_ft_qewl_miles.mp3
A. I'm blessed enough to have been taught the ropes by a great group of local talent. Because of that, I have been able to network well and work with producers from all over the country. I have producers from LA, ATL, NY, and Houston that send me instrumentals to write to.
Q. How did you hook up with Qewl Miles?
A. Him and I go back a few years. He's easily one of the hottest lyricist in the city! So when I needed a feature for WHISPER, only ONE name came to mind… Qewl Miles!
Q. What do you think of the current state of R&B and pop music? any major influences that led you down this path?
A. Wow… Loaded question. I think we've lost what R&B is all about… And POP hasnt been the same since NSYNC. Most of the people I grew up listening to have changed their styles to cater to whatever is hott at the moment. Only a few have stuck to what they do best… TANK, Jamie Foxx, Ne-Yo. They're some of the major influences that have taught me to do what I love because "I" love it… I must be my biggest fan.
Q. If you could work with anyone right now, who would it be?
A. Hands down, Jamie Foxx! I've followed him since his Foxxhole stand-up. His rendition of "Mary Mary, Quite Contrary" is a classic.
Q. Any tour plans?
A. I wanted to plan a college tour this summer. 10 shows, 7 colleges. Visit the top 3 colleges with the livest crowd twice. But that's still in the works.
Q. What can we expect from Kal'L in the future?
A. A new web page… http://KalLMusic.com. It'll have exclusive acess to music, videos, upcoming shows. And of course, LOTS of music. I've promised a new single every two weeks and a local show every 17th of the month.
 
http://Twitter.com/TheOnlyKaLL
http://Facebook.com/TheOnlyKaLL
By: Doug Garnett – douglas.garnett@gmail.com