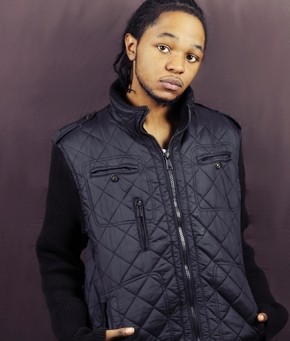 Edidion has the soul and talent to back up his dreams. He's keeping it real and showing off his swagger. Ok, let's face it I'm an old lady trying to be hip, but Edidion is a young man bringing some grooves like you would not believe.
He recently turned 19 years old and is quiet and shy and as humble as they come. I do not mean to destroy his hip hop image, but this young artist is bringing a new kind of R&B/Hip Hop to the air waves. When he says his music comes from within, I believe it truly came straight from his heart. He has passion and class and in my opinion he's a cut above the rest.
I think he might need a reminder of his awesomeness because he acted so shocked when I was blown away by his music, and then I was the shocked one, when he told me he had only been doing it for a year and a half. He taught himself how to write, he saved up and bought some equipment and the rest my friends is history in the making.
When asked where his inspiration comes from he said, "Everyday life inspires my music; I aim to write songs that are relatable. It's fun to talk about your swag and create club bangers but I always try to maintain a realistic element to my music."
[youtube b5IwDDIukV8 nolink]
I'd say mission accomplished. He won a new fan in me, and I normally listen to country music. He continued, "The message I'm hoping to portray through my music is that it's okay to show your feelings as a man, treat women with respect, see your self-worth, enjoy the rewards that life gives you and block out negative energy."
Hey, Edidion you were raised right, keep doing what you do. I hope your message spreads worldwide!
His future is looking bright. In only a short period of time he has been nominated for an "Artists In Music Award". You can also find him on the cover of Hip-Hop Stardom 101 magazine's   class of 2012 issue and his song, "Tonight" is featured on a popular Spanish TV show. His fan base is continuously growing and he is quickly receiving the attention he deserves.
I asked him if he realized his success; he answered, "My goals have goals within themselves, every day I am pushing myself to do better than I did before. The ultimate goal is to be signed to a major record label, I have not accomplished that yet, but I'd like to think I am on the right track."
If he keeps on the path he's going I would say it is only a matter of time before Edidion is a household name. You will learn quickly when you listen to is his music it is edgy with a little something new. I asked him what genre he'd classify himself and if there were other audiences he was looking to reach other than R&B/Hip Hip. I personally see a huge crossover success for him, his music is poppy and radio friendly. To all you die hard people who think Pop has no heart, let Edidion's music take you to school. You'll find clean, concise hip swinging beats and a message we could all live by. Have a little fun, let your hair down and show respect where respect is due.
He said, "Hip-Hop has changed significantly in the last 10 years; In my opinion the best Hip-Hop acts are unsigned; I feel a lot of the unsigned artists of today are the future of music. In the world of Hip-Hop/R&B I feel like I am unique, I don't sound or look like any of the popular artists today, so I definitely see myself as something fresh and new."
I couldn't have said it better myself. I see a strong future in the music world. There is a trend of the younger generation looking to be a positive influence and turning their cheeks to the chaos and disrespect. It seems to have been a long time coming, but Edidion is definitely a league of his own. He gained a huge respect from me and a new FAN. I owe him a thank you for turning me on to a genre most of the time I would overlook. It would be a huge mistake to overlook Edidion, he's here to stay and is making it happen.
By: Rebecca Hosking – hoskingrebecca@gmail.com