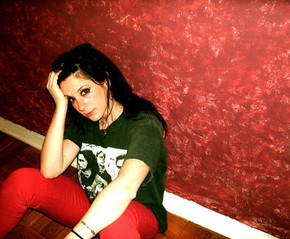 Jessica Eisenberg may have dipped into her whimsical back pocket when she came up with the name for her Brooklyn-based project Jezzy & The Belles, but one listen to the newest single off the eponymous three-track EP (released 2/14/2011) clues you into the fact that behind the playfulness lies a deep and serious commitment to her music.
[youtube PSqUMjjMiqI nolink]
"Confess Child" announces itself with dolorous horns that recall the notes consistently hit by Gogol Bordello or Beirut, but the track progresses in a more layered and futuristic direction, laced with light-speed drum programming for a backdrop, Eisenberg intones with the hushed yet dramatic melancholy of a martini-drenched lounge singer in a post-apocalyptic sci-fi underworld. Though this is just a taste of what's to come from her soon to be released debut full-length, Compasses & Maps, which is slated for release later in the spring.