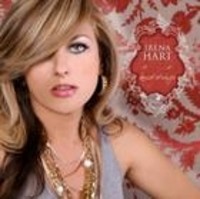 Over the years we've seen rock-pop and even singer/songwriter music slowly erode into over-commercialized, corporate puppet shows providing music that is extremely sing songy, predictable, and highly corporate. I hereby call this new breed of music "Poser Rock" & I want to personally thank all the corporate giants for successfully transforming "Sex Drugs & Rock n Roll" into "Yoga, Vitamins, and Nikelback" Of course millions of musical lemmings don't know the difference, but not everyone is entertained. Talking to many music fans out there the response is overwhelming. Give me something new, something raw, something that's showcases talent. Something the pushes the envelope with a fresh sound that doesn't sound like the usual popish suspects.
[youtube h-CofycUt60 nolink]
So across my desk slides the new CD by Russian born pop sensation Irena Hart entitled "Heart Strings" released in 2011. Hart is now based on the East Coast, and I have to say what I heard put a smile on my face. It's a nice easy flowing record that delivers solid songwriting with a fresh pop-rock sound. Hart reminds me of a combination of a cross between Pink and Christina Aguilera and perhaps a tad of Mandy Moore and Fergie. You will also hear a side of Power Pop, Modern Dance and even Rock within each piece of music. If you like the above bands you should definitely check out this CD. My favorite track is probably the title track, but for the record there isn't a weak song on this entire record. At the end of the day it's all extremely danceable, marketable and likeable release — very much like the artist herself.
"Heart Strings" by Irena Hart is clearly a solid release with many feel grooves with a infectious singer/songwriter persona about it that just makes you want to get up and dance. It's a record that gives us a fresh glimpse at an impressive Ukrainian born talent that brings to the table a plethora of talent. It also takes us back a few years — before everything started sounding like — well Brittany Spears.
By: Kevin Huner
Edited by Cyus Rhodes
[Rating: 4.5/5]