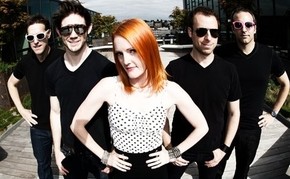 The band was formed in Seattle in late 2009 by producer and drummer Andy Tyra and enigmatic microphone jockey Kari Tarr. Once they realized Andy had too few limbs to play every instrument live, they recruited guitarists (and index finger shredders) Mike Pesce and Ben Ahroni, along with the effervescent Aussie, Jeremy "I am not a convict" Hynoski to bring in the low frequencies.
[youtube x_qyjdbpngA nolink]
With their new album about to launch and an aggressive touring schedule planned for early 2012, Out Like Pluto is pulling out all the stops to bring their own brand of upbeat fun to as much of this world as possible!