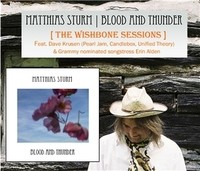 Born in Germany and now operating out of France, indie/rock singer/songwriter Matthias Sturm has been generating very positive reviews worldwide for his new release "Blood and Thunder". Recorded at Blind Melon's private studio with David Hillis (Pearl Jam, Afghan Wigs, James Blunt) at the helm, Sturm also recruited Pearl Jam founding member Dave Krusen on drums and two-time Grammy nominated Erin Alden on keys and piano. The release has brought Matthias comparisons to artists such as Roger Waters as well as a nomination at the Independent Music Awards. All this can lead to both hype and expectation, and I for one think Mr. Sturm is up for the challenges that comparison with other rock greats can bring.
"Mister D" immediately shows Matthias Sturm as a very natural storyteller and songwriter. His voice soothes, flows and cracks occasionally — all the spontaneous output of a seasoned writer who knows how to express himself, and doesn't need to have everything perfect. Real is perfect, after all. With vocal lines and tone reminiscent of David Bowie, Matthias has chosen some beautiful arrangements, and the psychedelic production is wonderful. This is definitely the beginning of what seems like a fascinating release.
"Blood and Thunder" continues the trend, and that's a great thing; if it ain't broke, why fix it? From talking poetic rants to eastern guitar chords, beauty and tension abound. Sturm sings "See the tiger turn his head … and the tiger lift his head" with reverence and purpose, as "Dear Prudence" sound effects swirl and elevate the listener. This is moving, motivational material.
"What a Day" brings the upbeat, playful, more poppy side to the forefront, and a song that normally may err on the cheesy side seems totally authentic because of the songwriters strength. He guides the song with a sense of wonder for a beautiful day. "Home Sick" takes on the subject of mortality with some humour and a dash of fearlessness. The arrangement is mellow and soothing; our protagonist is not worried by any means.
"Baxter Galloway Meets Mr. Handsome" gives a hats off to both The Beatles "Being for the Benefit of Mr. Kite" and "Maxwell's Silver Hammer". A circus wheel could be visualized with this slightly mad progression; upbeat and curious. "Peace on Earth", like the title track "Blood and Thunder", is poetic and inspired. Between the call and response backup vocals, Matthias's dynamic lead vocals plead "Take my hand. You see the world is upside down" before leading a gang vocal of "Peace on Earth. Jesus Christ. Hallelujah".
The next album highlight for me is the closer, "Crow Food", whose soothing rock n' roll swing serves as a perfect backdrop for the poetry. Bowie, Lennon, Waters, Jagger, the influences are all here, and Sturm adds his own flair, his own originality.
This is a highly recommended release for any fans of classic rock or great singer/songwriters; David Bowie, The Beatles, Pink Floyd, Bob Dylan — you get the picture. A very enjoyable listen, and it makes me excited for the prospects of rock n' roll's future.
By James – james@independentmusicpromotions.com
[Rating: 5/5]