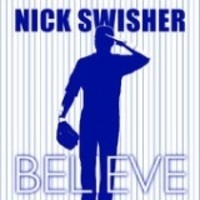 This is a fun project for the popular New York Yankees All Star outfielder Nick Swisher.   The release has taken timeless rock classics geared toward kids, and made to benefit his charity Swish's Wishes.   In order to put this together he enlisted music luminaries like drummer Kenny Aronoff, guitarist Tim Pierce, keyboardist Matt Rollins, and former Yankee great, jazz guitarist Bernie Williams.   The background kids choir was made up from kids from School Of Rock, the national music education organization.  
We know that Nick isn't afraid of a fastball, but this release proves he isn't afraid of taking on The Stones, Sly and his Stones, Lennon & McCartney, Credence, Bowie, or Tom Petty either.   Nick's voice is suited to the level of hard rock, but he delivers on the slower stuff too.   Jumpin' Jack Flash, and (the tribute to the Ohio State Buckeyes), Hang On Sloopy sound pretty good with the kid's choir background.   Believe is a nice straight up ballad, featuring Bernie Williams axe.   Nick's take on Bowie's Heroes works well also. The kid's voices fit extremely well in Sly's Everyday People, which had female background vocals.  
This is something that kids can relate to, and for a good cause.   All in all, you'll find a good effort, a good cause, something kid's can sing along with, just a lot of good stuff!
By RME
[Rating: 3/5]