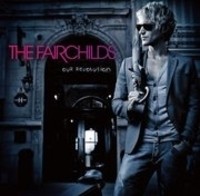 The Fairchilds is the brainchild of French artist Cyril Niccolai on vocals, guitar, and keys, and supporting players, Olivier Marly and Erik Sitbon on guitars, Hugo Cechosz on bass, and Philippe Entressangle on drums.   I know, it sounds like the cast of characters from a Charles Dickens novel, and we are curious how they dress.  
High, Misery Likes Company (in a Beatlesque manner) and Turn Back Time are decent ballads that flow with Cyril's voice.   The ballad Unbreakable could have been a decent follow up for The Verve Pipe's only hit, The Freshman.   Song 12, Who I Am, and I Need You have the flavor and the delivery of the extremely popular format followed by arena rock groups of the day like 30 Seconds To Mars, and Muse.   Story Of My Life follows the format in a catchy pop sort of way. Life Is Beautiful is a romantic themed piece, while My Name is the rocker of the release.   You can hear the influence of the British Invasion throughout the release, which isn't a bad thing.
The songs are delivered and mixed well, and the lyrics don't bore or offend you. Get ready, as Cyril is bringing the show to the U.S.    
By RME
[Rating: 3/5]