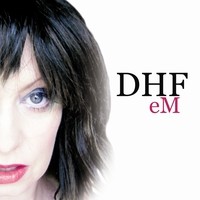 Get ready for an Australian vocalist/producer who is taking progressive dance music to a whole new level.   She goes by eM and what you have here are two tracks off of the full-length album 'DHF'.   'DHF' stands for "Deep Hard Fast" which makes sense because you will hear plenty of beats mixed with personal & emotional lyrics/vocals.   eM prides herself in her music as any true artist would where her close friends even refer to as the "Queen of Motivation".   This is for good reason too because what drives eM to make high-quality recordings are these three words: "Inspiration. Motivation. Dedication."  
The first track up is titled "Promise Me" where you will hear hypnotic beats & singing.   This song means a lot to eM where she has a touching story behind it.   "I sang it to my brother before he passed away several months ago in New Zealand.   It was the hardest thing I have ever done and I just sang it over and over to him.   I am doing a video for this song and trying to get support from a cancer charity here in Australia to help endorse the song.   Although I didn't actually write it for him, I think the words and song now belong to him: 'Promise me you'll stay with me in heaven/Promise me you'll never let me fall."   Just based on that, I'm getting a WOW factor already.   The next installment is "You Don't Know" that holds a haunting sound to go along with a mysterious demeanor.  
Prepare to be put into a complete trance as you listen to these two tracks.   eM definitely gets your attention right off the bat with her cool dance grooves combined with material that has a deep & somewhat dark texture.   I'd really like to hear 'DHF' in its entirety to really get a full grasp of what eM is all about.   The only issue may be the running time where both tracks go over 7 ½ minutes long which I'm almost certain most U.S. radio stations would frown upon.   But I do have to say that "Promise Me" and "You Don't Know" are catchy enough to get noticed by curious listeners who are after heavy substance & dance-worthy numbers.  
By Jimmy Rae (jrae@skopemag.com)
[Rating: 3.5/5]