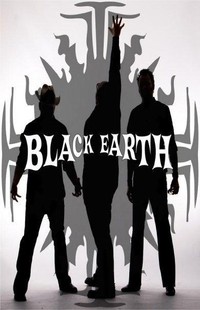 Here comes Black Earth as they unveil their high-voltage release titled 'Pink Champagne'.   Black Earth is a rock & roll trio made up of: Jason "Ving" Calise on vocals & guitar, Dave Rangel on vocals & bass and Jason Reece on drums.   The powerful noize that these three musicians create as a band is just incredible to say the least.   Losing their longtime drummer along the way, Black Earth has definitely battled some demons but they have also discovered a light at the end of the tunnel.   What awaits them at the finish line is currently 'Pink Champagne'.
The record  features a song called "Dear Lady Lean" where right away you can tell that the guitar & drums make an awesome combo.   I have to be honest when I say I did not care for the vocal performance on this particular track as it just didn't work for me; not my cup of tea.   I'm pleasantly surprised & relieved when it rolls along into the next song "Face Down in the Gutter" because now I can tell what this whole band is really made of.   What you get is an all-out jam session that is hittin' you hard with the guitar & drums stealing the show.   The 10-track recording plays along hanging onto   that hard rock edge on numbers like: "Livin and Lovin", "My Private Hell", "No Way Back" and "She Don't Want It".   These were my favorites on the record because I just love that in-your-face style and energy that is just off the charts!   You will definitely be rocking out with your you know what out after experiencing the Black Earth rockers.   You'll also find the title track 'Pink Champagne' to be quite catchy in flavor & taste so bottoms up!  
I have to say that I was highly impressed with the guitar riffs & solos along with the heavy hitting drums.   Shining moments for me personally was hearing the two come together like PB and Fluff.   I have to say that the style of singing seemed to work better with the faster, more up-beat jams vs. the slower songs.   With this in mind and the slurring vocal approach I heard throughout the album I would say that this could be a perfect segue into making punk-influenced music.   Just a thought and an interesting observation as we may witness Black Earth evolve even more so right before our eyes & ears.   I see HUGE potential with this group and they are definitely on my radar so you owe it yourself to check out the action-packed & exhilarating 'Pink Champagne'.  
By Jimmy Rae (jrae@skopemag.com)
[Rating: 4/5]