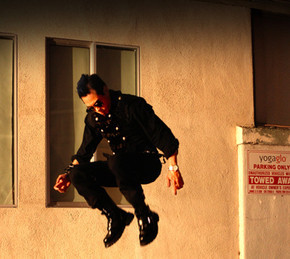 To make it in music today you really have to work hard and then work harder. This passion has got to be something you must do and you must be in it for the long haul. My guest today is the epitome of this. DJ Jounce is a musician, songwriter, music producer, DJ, MC and music video jockey. DJ Jounce has been super busy lately as he has been promoting his debut album 'Temporal Ascent' which was released this month. If you are having a party or you are about to hit the gym, this album will keep your heart beat pumping. We even got to offer an MP3 of "Melt In" just to give you a taste. Lets party!Stoli: Where are we talking from and can you believe summer is almost over already?
DJ Jounce: Hi Stoli!   First of all, thanks for having me.   I'm actually in my home studio in Los Angeles right now.   No, I can't believe this summer's already done.   2011 is flying by for sure.
Stoli: You released your debut album August 30. How are you feeling about the album and what can listeners expect from that?
DJ Jounce: I'm really excited about my debut CD.   I'm really happy with the songs … and I want to thank the singers who collaborated with me on 4 tracks.   In no particular order: Sherryce, Sha Sabi, K'Sandra and Rachel Lynn Sebastian … they're all wonderfully talented in their individual ways.   Listeners can expect a nice mix of electronic music from electro house to pop and I guess some hints of trance.   The feedback has been great so far, and I hope other music lovers get to hear and enjoy all the songs.
Stoli: At what age did you first attempt to spin records and how did you practice & develop your skills?
DJ Jounce: My first experience with turntables was in high school, but I didn't really get serious with it until after graduating.   A friend of mine, DJ Greg, who's an awesome DJ by the way, gave me some good help right when I started getting serious.   It took a lot of parties and nights at bars and clubs for me to develop, but I still practice to in my studio because there's always room for improvement.
Stoli: How did you get the alias DJ Jounce?
DJ Jounce: Most people think I just did a simple play on the word "bounce", but it's actually a physics term.   This is gonna sound really nerdy, but it's "the rate of change of a jolt over time".   Music I like generally has lots of bumping changes over time, so I thought the name could work.
Stoli: What do you enjoy more, playing live in a club or recording in the studio?
DJ Jounce: Hmm, I think I enjoy writing the music the most.   But after that's done and it's time for recording, honestly, I think that part can actually be a little less enjoyable, especially when I keep messing up takes … haha.   Spinning live in a club is hard to compare because it's a totally different experience, but definitely an enjoyable one because it is a party.
Stoli: I love your song, "Melt In." Explain how you go about writing, composing, & recording that song?
DJ Jounce: Thanks!   On that track, I think the syncopated simple melody came first and I honestly don't remember how it got my head.   I was probably thinking about some action scene in a movie.   But after that, drums came and then the other segments slowly filled in.   In general, almost everything I wrote on this album was on computer using synthesizers and programmed drums.   We recorded a lot of vocals in my home studio as well.   I play guitar and that was done in the studio here for a couple tracks.
"Melt In" MP3:
Stoli: You do a lot of production as well with various artists. What would be the best route for someone looking to work with you?
DJ Jounce: I'm always open to collaborating with other artists.   It's inspiring, fun and can lead to some very cool results.   Anyone can just e-mail a recording of their talent directly to me at DjJounce@yahoo.com.
Stoli: If I was to get my hands on your I-Pod or MP3 player. Who might I hear on there?
DJ Jounce: It's a pretty diverse collection for sure!   I grew up listening to classical, jazz and rock.   And as a DJ I have to have the house, hip hop, top 40 and electronic music.   I'm a little lacking in the polka genre but fortunately I don't get many requests there … haha.
Stoli: What DJ equipment are you currently using and do you spin vinyl or CD?
DJ Jounce: My main setup is kind of basic.   I use Technics 1210-M5G vinyl turntables, Shure M44-7 needles, a Rane 57SL mixer, and Pioneer headphones.   For software, I use Serato and Live.   I don't mind using Pioneer CDJs at nightclubs as well.
Stoli: What LA clubs can I come see you when I am on the west coast?
DJ Jounce: Before producing my album, I spun around Hollywood, Los Angeles and Las Vegas but I've been locked in the studio and focusing more on my original material so the past few months I actually haven't been in the clubs.   I spun at a Grammys event and the Warped Tour Battle of the Bands this year and I'm going to do some more industry showcases this fall.   Before the end of this year I plan to start getting back into the club circuit and I'll be sure to let you know where I'll be spinning!
Stoli: What is coming up for DJ Jounce & where you at to follow your moves online?
DJ Jounce: In the next month, we're shooting a music video for Ooh La La, a track I did with Sherryce.   I'm also making a bunch of ambient music videos for some of my instrumental tracks.   These videos will be graphic art, with the visuals moving along with the beat of the music.   I plan on having these visuals play in sync on my 100 inch video screens when I spin live. So I'll be DJing shows and I have some special parties lined up just for my fans.   I gave away a bunch of Fan Freebies on my FaceBook and a few lucky fans will have me DJ a party for them for free for up to 1000 of their friends.   It's a great way for me to connect directly with them and thank them for being so supportive.   Oh, and I'm already working on new material for the next album that'll come out next year.   You can follow me at FaceBook.com/DjJounce or Twitter.com/DjJounce.   My web site is www.DjJounce.com.
Thanks again, Stoli, for having me. Shout out to Skope Magazine and all my fans!