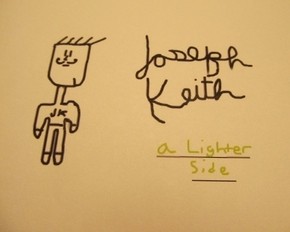 Joseph Keith is a soft to harder rock 17 year old with a talent for instantly likable melodies and rifts. Fan base includes not only the expected teenagers but all ages. His debut album "A Lighter Side" does not have a weak song on it. It is available on iTunes.
[youtube YxeDwHyX2Vc nolink]
At the age of only 10, Joseph Keith began playing guitar. At 13, he formed his first band, Backfire, which played mainly cover songs of bands like Green Day, Blink 182, Good Charlotte, etc. They played at local charity events in the DC area, as well as at major venues such as Jammin' Java, JAXX Night Club and the 9:30 Club. Also during this time Joseph started writing songs that reflect a slightly softer, more acoustic side. Inspired by such artist as John Mayer, Rob Thomas, Jason Mraz and the Goo Goo Dolls, he has written over 50 songs so far, which he also sings. A sample of 14 songs has been selected for his debut CD, A Lighter Side.