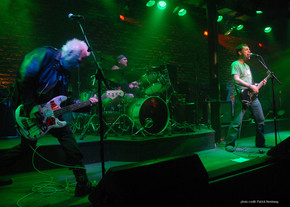 22nd Century is a hard rock trio. They are Zippy Pinhead, drummer, Vocalist and guitarist Tim Plommer and Duane Chaos. The band has had rapid success racking up a #1 hit single on the Somojo UK Indy Charts ("509") as well as honorable mention in Billboard Magazines 2009 Global song writing contest and have been headliners to crowds in the thousands in LA, NY and San Francisco. In 2010, with legendary producer Joh Webster, they released their second album, "Where's Howie?"The following is an exclusive interview with Skope Magazine from July 2011 with 22nd Century's Duane Chaos, Ziuppy Pinhead and Tim PLommer.
Skope:  Tell us about 22nd Century, who is in the band and what do they play?
Duane: 22nd Century is a hard rock trio from Vancouver.   It's us — me (Duane Chaos),Tim Plommer and Zippy Pinhead on drums.   Tim and I change guitar and bass duties depending on what mood we're in and what song we are playing.   We're a rebellion against manufactured top 40 music but we embrace melodic constructs and satirical lyrics.
Zippy: We're just those guys you were warned about (laughs).
Duane: that too!
Tim:   We just all realized we wanted to play music that rocks and since we're all veterans of the Vancouver music scene, we just sort of fell together.   I do a lot of the songwriting but we all collectively participate in the process.
Zippy: Some of us fall more after a few beers!
Duane <smirks> yep!   I'm Duane Chaos, computer geek by day, rocker by night.   Tim Plommer has at least 6 CD's out and Zippy Pinhead certainly needs to introductions.   He has been a staple of every great alternative band.
[youtube wW2LiIjuu9g nolink]
Skope: Who were your early influences?
Zippy: I liked the Beatles and the Who and it naturally flowed into Alice Cooper and KISS,all the other kids thought I was weird!
Duane: For me Think Lizzy, the Sex Pistols, Kiss, Judas Priest and The Ramones were my biggest influences.   When I heard "Boys are Back in Town", I couldn't believe how awesome it was.   I mean Phil Lynott just said what everyone experiences on their best ever day of summer.   The song is all about friendship and just being part of a scene.   We actually played tribute to Think Lizzy in a band called "Phat Lizzy" with Larry Jordan of Jesus Krysler.   The show was thrown together in a couple of weeks to raise money for the Japanese earthquake victims.
Tim:   I just liked rock.   The genre totally gave me energy and let's my other side flow out.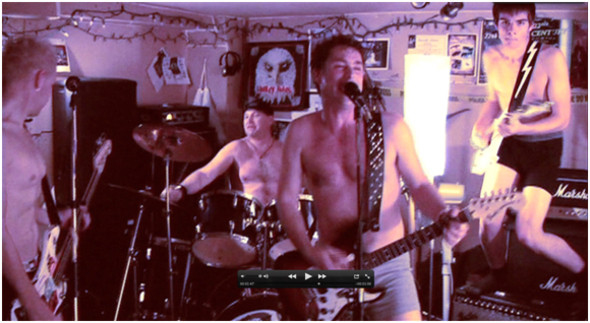 Skope: What sets you apart from other hard rock bands?
Zippy: We're the guys that aren't after the brass ring ,we do this because we love it and we have more fun than average mortals!!
Tim: Exactly.   Not one of us believes we're ever going to be "rock stars". I don't even know what that means.   We do promise we will play the best, high energy rock shows we can.
Duane:   I think there are still a lot of manufactured acts out there.   When you see a band that has a consistent look, playing stuff that sounds familiar, it just doesn't seem real.   We bend the rules.   We've got receding hairlines, we're ugly and we're honest.   Our music reflects reality and our own twisted sense of humor.   Read the lyrics on the latest CD to really understand who we are.  
Tim:   We're also very cynical.   A lot of bands always write about serious stuff.   Our songs have characters like the Superhero in Apartment 509.   He drinks and smokes all the time; he doesn't actually fight crime or even go outside but he's still a superhero.
Zippy: Don't forget the classic Read it on the Radio!  
Duane: Ditto! If you believe those lyrics then Michael Jackson isn't dead, a chimpanzee can fly a plane and there are large icebergs in lake Michigan.   It's fucking hilarious what some people will believe just because they read it somewhere.   We tend to question everything.
Zippy: Question everything including what (Duane) Chaos just said.   <laughs>
Tim:   the biggest thing is we don't take ourselves seriously.   This is what we do.   We don't try to please anyone.   We're not gonna please veryone so why bother trying?   Why not do what we want.
Zippy: What about my needs?   <laughs>  
 
Skope: Tell me about your cds and what your working on now?
Zippy: I have hundreds of CD's, and some of them I even play on!! (laughs)
Duane:   We've actually god two studio CD's out plus bootleg live recordings from New York as well as participating on some collaborative CD's from Los Angeles and Eastern Europe.   The bootleg is out on the internet and contains some Foo Fighters covers.   It's hard to find though.
Tim: Our first CD is called The Twenty Second Century.   It is a 6 song EP that received an honorable award from Billboard Magazine and also had a #1 hit on the UK Indie charts.   The second studio CD is called "Where's Howie!?" and has ten songs including two covers.  We've got radio play in 40 + countries.    All the songs are available on our website at http://www.22ndcenturyofficial.com or via CDBaby or iTunes.
Duane: It is a lot of work so our third CD is on hold while we are playing on Jim Cummins new I, Braineater CD.   Lots of sweat going into this new CD.
Zippy: Working on a new song called sniff the shorts! Sequel to smell the socks, and what died in those runners!!
Tim: OK.   We're not working that hard. <laughs>
Skope: What do you want listeners to get out of your music?
Duane:   Good question.   Every person likes our songs in a different order of preference so we're still trying to learn what our music means to others.   I think mainly I just want them to know the passion we played with when we wrote and recorded the songs
Tim:   Prior to releasing "Where's Howie!?", we crowd-sourced the order of preferences and no two matched up so I agree with (Duane) Chaos.   It's not really something we understand.   If I had to answer honestly though I would want them to appreciate the songwriting and the composition/arrangement.
Zippy: World Peace and a six pack of suds on the corner!
Duane: Especially if it's Poonsler beer!   Everyone should drink a 6 pack of Poonsler beer when they listen to our music.
Tim: It's fictitious beer but it tastes awesome!
Zippy:  It's time for a Poons' now!
Skope: What would you all like to be doing 5 years from now?
Zippy: Counting my stinking  fuckloads of cash on a tropical beach somewhere ,with a margarita in my hand!!
Duane: Sitting beside Zippy stealing his cash and drinking on his bar tab? <laughs>
Tim: Probably the same thing we're doing now. I think it really is a testament to the fact we don't take ourselves too seriously.   Music is a passion.   The video Teenage Underwear Model reflects our love for doing stuff that isn't necessarily cool but we think is funny.
Duane: Last word is whatever we do, it has to be funny for us.
Zippy: Last word — funny!
Duane:   For me, it has to be a return to Los Angeles, CA.   Headlining to over 4,000 people and having ex- .38 Special! Road bass player join us on stage for some Ramones songs as encores rocked.  That needs to be repeated!
 
http://www.22ndcenturyofficial.com
By: Diana Olson – diolson05@yahoo.com