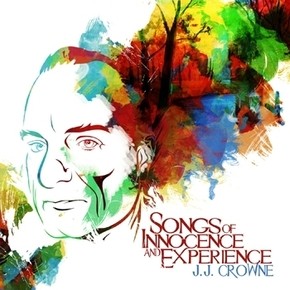 Get ready to be intrigued by the man who calls himself J.J. Crowne aka The Eclectic One or "Musical Chameleon".   This one-man show from South Florida is ready to take the bull by the horns with his debut album 'Songs Of Innocence And Experience'.   From talk of his major contributions to the music biz & songwriting to personal stories about Marilyn Manson, Johnny Depp's old band and opening   for The Mavericks, J.J. covers it all!   You'll be amazed & surprised all at once as Mr. Music Man Crowne tells you about his incredible journey thus far.   I've come to find out that J.J. Crowne is a genuinely true singer/songwriter with pure talent & ambition and his words will inspire you.   Or at least I hope so…ENJOY!
Jimmy Rae:   First tell us about your recent debut album 'Songs Of Innocence And Experience' and what exactly went into making this new record?
J.J. Crowne:   It's the album I'd planned to record about 4 years ago, but never got around to doing.   And I'm glad it worked out that way, because about half of the songs that appear on the album now were only written during these past couple of years.   I've had a surge of new inspiration, and am glad I waited to be able to include these newer songs.   I recorded all of the tracks (vocals and instruments) in my home studio over a 5-month period in late 2010, then got picked-up by an indie label here in Miami called Essential Media Group.   I then completed the final mixing and mastering of my home-recorded tracks at their studio.   The only other person involved in the entire process was my mixing and mastering engineer, Rick Pantoja, who came in at the end of the project and, bless his heart, had to deal with me directing every mixing session.   .
Jimmy Rae:   I think it's ironic that this is your debut release because you have in fact been involved with the music scene since you were 16.   Why did it take you so long to finally decide to record an album after all these years?
[youtube -NtPwCC6xRU nolink]
J.J. Crowne:   I've been writing songs since I was a teenager, and probably have 50-60 demos of my stuff lying around.   I had a record deal back in 1979, and half-way through recording at their fancy studio the company went bankrupt and I lost the rights to some of my material in the process.   That was a huge set-back for me and really shook my faith in the music biz for a long time.   So I just stuck with the kind of sure-fire gigs I knew I could get — like writing and producing jingles, themes and cues for TV shows, a number of live theatrical projects, and even doing some soundtrack music for a few low-budget films made here in Miami.   At least through that kind of work I could use some nice studios, hear my stuff on radio, television and stage, and even collect ASCAP royalties which, funny enough, I still get to this date for shows I composed music for 10 years ago.
Then in 1990, when I was writing more songs again and opening shows for The Mavericks, I was approached by a rep from Warner Bros. Publishing who claimed he was going to sign me to a deal.   No sooner did I get my hopes up again as he got fired and the company decided they would not honor any deals he had been proposing.   So back I went to my jingles and soundtracks.   Then in 1998 I wrote music for a children's television pilot which a very well-known TV executive was interested in buying and, you guessed it, that fell through as well.   Finally in 2000, I just started producing albums for other local artists and at least got steadily paid for that work.   That's the advantage of being a producer/engineer — the tracks never leave your studio until you get paid.   But I still kept writing songs and doing little coffee house gigs to keep my hand in the original music scene.   So, my not recording an album for all these years was really not from lack of effort on my part.     It wasn't until just a few years ago that I could accumulate the professional-grade equipment, and programs like Pro Tools and Sonar, that would finally allow me to record my own album in my home without being dependent on big studios.
Jimmy Rae: So you were a producer/composer of radio jingles, theatrical music and TV themes for Fox, PBS & Univision early on in your career.   I think this is very interesting stuff and I, along with the Skope readers, would love to hear more about this.   So what were those experiences like?
J.J. Crowne:   I started in the jingle and commercials biz when I was about 19 years old (way back in the pre-digital 70's), while working as a disc jockey for a corny "adult music" station in Fort Lauderdale during my summers off from college.   I used to go into their production rooms at night on those great old Ampex 440 reel-to-reel tape machines and sing acappella station ID's and promo jingles for the different "radio personalities." I was doing 4 and 5-part vocal harmonies by bouncing tracks 5 and 6 times from one machine to the other.   The station manager was so impressed that he put me into production work, which I loved so much that I left college for a couple of years just to do that full-time.   Then I got gigs from different Miami ad agencies doing jingles and production for everything from car dealerships to suntan lotions.   There were months back then when I could scan the radio dial and hear my work 5 and 6 times each hour on about 8 different stations.   And for being 21 years old, that was pretty cool.
Eventually some television and local motion picture work flowed from that, after I had won a few local awards for my work and managed to network with the right folks.   In 1975, I recorded music for a movie project in a studio adjacent to the famous Criteria Studios, and used to hang out on my lunch hours with the likes of Bob Marley, Graham Nash and Barry Gibb — all of whom were there at the same time recording very famous albums.   Florida is a non-union state, so getting those kinds of jingle and movie gigs was much easier than if I'd lived in New York or L.A. where that business is strictly dominated by old union guys and very difficult to break into.
The work for Fox TV started in a totally unexpected way in 1992.   I was a legal services volunteer hosting a jail-house television program for prisoners, for which I also did musical themes to jazz-up the show a bit.   "America's Most Wanted" decided to do a feature on my show and their producer decided to include my musical material so, as luck would have it, my music got its first national exposure and I finally qualified to become an ASCAP writer.   It was funny, because the tracks they used on the show were recorded on a little Tascam 4-track cassette machine in my house, but they all thought it was done in some big studio.
My work for Univision started when I wrote an original song for a kid to sing on a popular talent contest show called "Yo Quiero Ser Estrella," which won the contest for the kid and was later released as a record in Mexico.   I don't speak Spanish, so I wrote the song in English and just had someone translate the lyrics into Spanish for me.   The show included an elaborate dance routine set to my song, featuring about a dozen young girls.   It was pretty funny.   Other gigs then flowed from that, but I haven't had any more dance numbers set to my songs.   Maybe it'll happen again some day, lol!
Jimmy Rae: I realize that you have performed with and written for many bands over the years such as The Mavericks and wondering how that went for you?   How did these opportunities come about?   I even heard you opened for Marilyn Manson and Johnny Depp's band back in the day and we're all dyin' to know what the hell that was like!   (:
J.J. Crowne:   In the early 80's, in between my commercial recording gigs, I would occasionally play-out with good friends of mine who had fairly popular punk and rockabilly bands that appeared regularly at a Miami club.   Depp was a wanna-be rock-star guitar player in those days and often played with his band, The Kidz, at that same club.   Some of the nights we played, his band would also play.   I never got to know him personally, but when he and his band left for California to try to break into the music (not acting) biz, I ended up dating one of his ex-girlfriends – with whom I later wrote some songs, and tried unsuccessfully to promote us as a boy/girl musical act.
I met Raul Malo and The Mavericks in 1990 when my second, more successful, attempt at a boy/girl act (this time with a different girl) had us appearing weekly at a club on South Beach where The Mavericks were the house band.   We became friendly, eventually were represented by the same attorney,   and my band started opening for their shows regularly.   Raul is a very talented songwriter and gifted singer and, once they got their big break and left Miami, went on to win several Grammy Awards; and Bobby (their bass player) went on to wed Trisha Yearwood in the Grand Ole Opry on television (although she left him sometime thereafter).   They were great guys and I thought for just a few minutes that maybe some of their success would rub off on me, but no dice.   That's when the Warner's deal fell through.
Marilyn Manson's band in those same days was called The Spooky Kids, and was also represented by some of the same management as my band.   So on a few occasions, we opened for him as well.   We even played on the same bill as him at a big record company showcase gig on the fateful night when, as the story goes, Trent Reznor came to see him and took him under his musical wing.   Marilyn's act was much more raw in those days, and included WWII-era film footage of   Nazis playing behind him as he performed.   And there was me and my little acoustic folk/rock band playing on stage right before him, singing my emotional songs of love and peace (including "Toy Soldiers" and "Finally Your Turn," which are now on this album).   Interesting musical juxtaposition, I'd say.
Jimmy Rae:   So you're from South Florida and wanted to know how long you've lived in the Sunshine State and how do you like living there?   What are some of the best spots to visit for you personally and what other activities do you enjoy doing while in Florida?  
J.J. Crowne:   I moved to South Florida after my dad died when I was 14 years old.   Great place to live, but the original music scene that was so happening in the 80's and 90's is long gone.   If you're a young Latin band, though, it's probably still a good place to play and gather fans.   All the original music clubs on South Beach have given way to trendy bars filled with tourists.   Heck, even hurricanes don't want to come this way anymore; they'd rather go up to New York where there's more of a scene.   Seriously, if I start playing-out with this album, I doubt there's really any decent venue in this area that would host my kind of music. I would probably have to start off in another city.
The Florida Keys is a great place to go, and is less than a couple hours drive from Miami.   And there are actually clubs there that encourage new, original music acts.   I played a big music festival there this past May and the response to my material was great.   I'm a huge snorkeling/diving fan and there's no better place in the world for it.
Jimmy Rae:   Have you had the opportunity to travel much and if so what are some of the best locations you've been to and why?
J.J. Crowne:   I've been lucky enough to have traveled extensively and many of my experiences have inspired lyrics for songs, and given me a good feel for what people in other countries and regions of the U.S. can relate to.   I'd like to think that's what gets my music some of the fans I've heard from around the world.   I've been to England and most of the countries in Europe, the Caribbean, as well as to Russia and Central America, and to most of these United States.   Russia is an incredible place and I've even played music with a number of Russian musicians over the years… very passionate about their music, as am I.   Favorite foreign city would have to be London for its music and literary scene.   Favorite American city would have to be New York, which is the area in which I was raised.
Jimmy Rae: You've been recognized for your songwriting ability by Billboard Magazine & The Miami Herald just to name a few and I can vouch for that after hearing the record myself.   Do you feel this knack for writing songs is a gift or something you've really had to work hard on through the years?   I guess what I'm trying to say is does it all come naturally to you or is it more so a tough, drawn-out process that takes a lot of time & patience?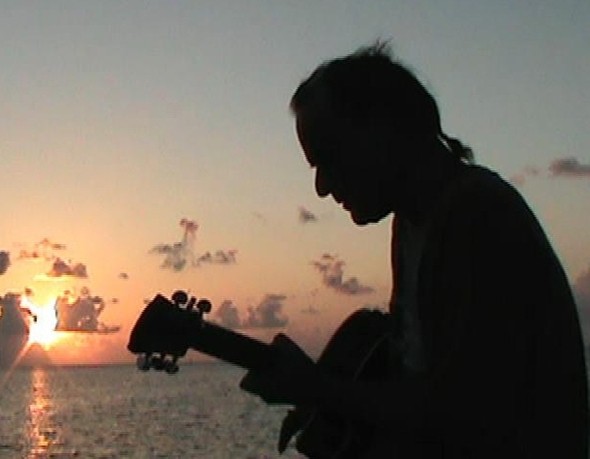 J.J. Crowne:   I think most songwriters would agree that it may start with a spark of talent, but to seriously build that fire takes a lot of trial & error and lots of work.   Some very successful writers with whom I've talked to over the years feel that the songs come through them in a nagging kind of way, and won't leave them alone until they've finished them.   I agree with that.   Sure, some simple 2 and 3-chord famous songs were probably written in 20 minutes, as some folks like to brag.     But those 20 minutes were almost always the culmination of many years, or hundreds of hours, of honing a skill.   A good surgeon can remove an appendix in 20 minutes, but think of the years of training he/she went through to get to that point.     I'll have melodies or chord changes or lyrical phrases dancing around in my head sometimes for months before I sit down to actually compose the song.   Some come fairly easily — like "Lies We Lived Before" I wrote in one session on a guitar riff I came up with by accident.   Others, like "I Can Be The Wind," can take 5 or 6 complete re-writes and re-visits over several months to get it just how I think it should be or, should I say, how it's been nagging at me to be.   Then after it's written comes the next adventure — writing an arrangement for it.
Jimmy Rae: I gotta know what goes through your head during this whole music making process.   How do you just come up with lyrics and then notes to those words?   What is your complete method?
J.J. Crowne:   I used to envy Elton John because he always said that his lyricist, Bernie Taupin, simply wrote a completely finished   poem/lyric (with verses, choruses and bridge) and then Elton would just put the music to it.     Of course, so many of his melodies and chord changes were pure genius, but that method of writing is considerably easier than what others of us, who don't have a collaborator, have to go through. My life would be so much easier if I had some guy/gal write out a whole poem/song already completely structured so I would just have to put the chords and melodies to it.     I write in more of the Paul Simon way — he always said he'd doodle around on the guitar for hours, come up with some chords and melodic phrases and then start singing some syllables and nonsense words to fit them.   That's me, the King of the Nonsense Words and Syllables.   I do chord structure first (sometimes on guitar, sometimes on piano), then come up with a melody around them, then see what kind of story or lyrical phrases seem to come out of them.     If   I happen to be in a depressed mood (very good for songwriting, by the way), the chords, melodies and words will reflect that mood and the same is true for happier moods.     Donald Fagan (of Steely Dan) has a line in "Deacon Blue" that goes: "I cried when I wrote this song, sue me if I play too long."     And, yep, sometimes you really do cry while writing something.   It can be that much of an emotional catharsis when it's all coming together and finally stops nagging at you to come out.
After you've given birth to the song, then the next part is just as wrenching and rewarding — arranging the tune.   What drum beat do I use?   Should it be piano-based or guitar-based? Should it have some strings?   On "Everything About You"   I probably spent more time composing and recording the string arrangement than I did on actually writing the song!   Many writers, of course, have nothing to do with arranging their songs, especially in Pop, R&B and Country   — that's left to professional arrangers to deal with.   But being a one-man-band/orchestra/choir, I have to deal with all of that as well.                       Probably my favorite parts to arrange are the vocals.   That comes pretty easy to me and you don't have to deal with out-of-tune instruments, faulty wires causing hum on the recording, tonal differences from one guitar to the next, etc.   It's just laying down one vocal part on top of another and another wherever you think they should go.     As you hear in most of my songs, vocal harmonies are a big part of them — from which I draw on my experience doing all those radio jingles years ago.
Then once that's all tracked (and some of my songs end up with 20 or 25 different individually-recorded tracks), you spend hours just mixing the volume and tones of each of those tracks, and then deciding whether to pan them to the left, right, or in between.   Is the bass guitar too loud?   Does the organ clash with the piano? Should the vocals have more reverb?   Is the hi-hat too loud in the drum kit? Should the lead guitar part come out of the left speaker or right speaker?   That'll drive you nuts if everything else hasn't already.   It's not uncommon for me to go through 10 or 11 mixes of one song until I get the instrument and vocal balances I like.   On some songs on this album, I actually took 2 or 3 of the best final mixes and edited them together, which is an old George Martin/Beatles trick.   "Only Time," for instance is a product of 3 different mixes that I edited together.   But when you listen to it, it hopefully just flows like a song and sounds like a band.     And that's my goal with each song I do.     Have I bored you enough with this?   Not at all J.J.—Lovin' it all and I'm sure the Skope readers will appreciate your in-depth enthusiasm!
Jimmy Rae:   On 'Songs Of Innocence And Experience' you are literally a one-man show by performing all 12 tracks, producing & arranging the entire record and even handling all the vocals, guitars, bass, keyboards and other instruments too!   Where does all of this talent & intuition come from and I have to know what it was like growing up in your house?   Have you ever thought about incorporating a live band or are you wanting to keep it strictly solo?
J.J. Crowne:   Many musicians are spawned from other musicians.   There is at least 1 person in every major band in the world who will tell you their dad was a musician, their mom taught piano, their grand dad was an opera singer, etc, etc.   As far as I know, absolutely no one in my lineage on either side had any serious musical talent.   My dad was, however, a decent whistler as I recall.   So I guess I inherited some "whistling genes" from him.   He also used to listen to lots of   Frank Sinatra records, so maybe that's where some of my musical "schmaltziness" came from (a quality in me that my punk and rockabilly musician friends were always quick to point out).   My parents could not afford to give me music lessons so I am completely self-taught on everything, for better or worse.   Growing up in the New York area, dad and mom listened to WNEW AM, which played nothing but Sinatra, Sammy Davis, etc., and I'd listen to WNEW FM, which was one of the coolest "underground" rock stations in the country at that time.   That was the extent of music in our house.
I've played in many bands over the years since junior high school, but always preferred to record solo, even when I wasn't very adept at certain instruments.   However, I am now seriously thinking of putting a band together to play-out with this album.   Right now I do the acoustic guitar solo thing, but would love to present the songs more like they sound on the album.
Of course, I wouldn't be the first person to have to do this after releasing a self-made album.   I'd be in pretty famous company.   Tom Sholz (of Boston) wrote and played on all of that first Boston album himself, except for using a drummer and a singer, and so did Prince and Todd Rundgren on their first solo albums… and they eventually formed fairly successful bands, I'd say, so hopefully it won't be too painful to pull off.
Jimmy Rae: You offer a very light, Adult Contemporary vibe on the new record with elements of Pop, Rock, Country and Jazz highly present.   Obviously this is all of a very eclectic nature and wondering if this was the intention all along for you?   Will this style continue on as you move forward in your music career or may we expect even more changes coming your way?
J.J. Crowne:   That's the new genre I'm going to start — "Eclectic."   The music biz is still all about pigeonholing artists — if you're a metal act, then heaven forbid you do too many acoustic tasteful things on your record, because radio and record company folks might not know what to call you or where to place you on radio.   It was cool for the Beatles or Led Zep to do that on their albums, but these days it's often a marketing kiss-of-death.   I write diverse material, am proud of it, and will not change.   I think it's one of my unique selling points with listeners. I'm a bit of a musical chameleon in that I can write in different styles and have never been branded just a folk or rock or country act.   The dozens of internet and land radio stations that are playing songs from this album are as varied as my styles — some want just the country tunes, others the soft rock songs, others the ballads, and a growing number of inspirational/religious stations are even playing "Finally Your Turn."   This combination of styles will definitely continue for me.   OK, so no operatic pieces or duets with JayZ in my future, but everything else is fair game.
Jimmy Rae:   I see that your music is currently being played at radio stations all over the world and curious to know how that really feels?   Also, how were you able to get the attention from all of these radio stations?   Any marketing tactics applied here that you'd be willing to share with all of us?
J.J. Crowne:   It's great going from hearing my commercials and jingle music in Miami years ago, to now hearing songs from this album on radio stations from around the world; and getting emails about them from DJ's in Texas and Tokyo, and fans in places like South Africa, Thailand, and even Indiana.   To know you've touched someone in a country thousands of miles away with a song you wrote in your living room and recorded in a spare bedroom is, as any artist will tell you, a very satisfying feeling.   I got on regular rotation on lots of internet radio stations and several land stations by first contacting dozens of them and asking if they'd listen to some of my songs (talk about a time-consuming process!), then submitting those songs for their consideration. "Guerrilla marketing" — as a buddy of mine calls it.   I was pleasantly surprised when many of them wrote back that they really liked the songs and would start playing them.   Some of the DJ's even called me personally to find out who the heck I was and where these songs came from.     I've now formed some very cool relationships with some of them, and that's another aspect of this biz that can't be underestimated — the rapport you have with people in the industry.   Other radio stations, album reviews and podcasts came as a result of entering contests on sites like SonicBids.com, where you basically compete with hundreds of other songwriters and bands to get placement in an online magazine feature or on a radio station or podcast.   So far, I've done pretty well with those also.
Jimmy Rae: So what's on the horizon for J.J. Crowne and what can fans/new listeners expect to hear from you?
J.J. Crowne:   This coming month, I'll be featured in a 1-hour podcast interview, along with most of the songs from my album, on a show out of Phoenix called "The Songwriters Variety Show."   Also trying to break into the college radio market this Fall (so perhaps your college readers might want to request songs from the album on school stations); and the album is slated for a few upcoming magazine and podcast features, including Radio Crystal Blue (from Philadelphia) and the New Music Tampa Bay Podcast.   Other stuff is in the works, but no artist wants to jinx anything by mentioning it prematurely, lol!   All upcoming events, radio station play, etc. will always be listed on my website: www.jjcrowne.com (which I update on a weekly basis), and the album is now available on iTunes, Amazon, Spotify, Napster and eMusic (no bootleg copies have hit the torrent sites yet, that I know of).     And hopefully in 2012 there will be some kind of touring.   As for right now, I'm very grateful for the response this album is getting, and I'm having the time of my life!
J.J. Crowne is a man on a mission and his music can be heard literally everywhere!     Radio stations all over the globe are playing J.J. Crowne songs right now and you can also hear his tracks online at spots like: Skope Radio, iheartradio and Jango.   You can buy his album 'Songs of Innocence And Experience' right here:
http://www.amazon.com/Songs-Of-Innocence-And-Experience/dp/B005G7ZZUM/ref=sr_1_3?ie=UTF8&qid=1313154778&sr=8-3
http://itunes.apple.com/us/album/songs-of-innocence-and-experience/id445090522.
Also, the entire album 'Songs Of Innocence And Experience' will be featured on Show #9 of the "Songwriter's Variety Show" sometime in October.   The link is www.songwritersvarietyshow.com where you will find exact times & dates of the podcast.   J.J. is the man…period…end of discussion!
By Jimmy Rae (jrae@skopemag.com)