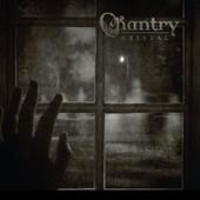 Chantry is back and better than ever with their new release 'Crystal'.   I first got introduced to Chantry back in 2009 when I reviewed the debut album 'Emancipation of Elizabeth' (http://skopemag.com/index.php?s=Chantry).   Alessandro Monopoli was the mastermind behind that project and continues to stand tall on this new 10-track set.   One HUGE difference here is that the debut was centered around Monopoli blazing away on his guitar and on 'Crystal' Chantry introduces a singer & bassist.   'Emancipation of Elizabeth' was primarily an instrumental album, a very good one at that, and 'Crystal' gives life to a whole new approach & band sound.   The results may vary but I'm here to tell you that I am hooked all the way!
The Italian born, U.K.-based artist Alessandro continues to show off his guitar wizardry on the recent record but that is not the focus here.   Two members are added to make Chantry even more appealing and they are: singer Francesca Vernaccini and bassist Luca Esposito Mistichelli.   Besides guitar, Monopoli also adds in drums and produced the entire album in his home land of Italy.   Composing all 10 tracks, Monopoli had a vision and set direction in mind all along and this is how 'Crystal' manifested itself.  
What blew me away here is that Alessandro not only changed up the entire structure of Chantry but also played along to the story of 'Crystal'.   As you're following along with the songs you realize that regret itself lingers and haunts the main character all the way through.   This sense of guilt plays a major role toward the making of this record.   The creative mind & masterful techniques of Alessandro Monopoli will continue to impress listeners everywhere.   The goth rock element, dark imagery and pure metal riffs are still present but there is so much more going on this time around.   The main reason for that would be the addition of Francesca's soaring vocal performance and Luca's hard-hitting bass lines.   The combination of pitch-perfect vocals, heavy bass and phenomenal guitar playing is now Chantry!   The updated version of Chantry has been discovered and I don't think there is any turning back!
The three musicians seem to gel together perfectly on 'Crystal' which makes Alessandro look like a pure genius!   What one may call a risky move by completely changing up the makeup/style of a band but in this case it pays off BIG time!   Just as Tarja Turunen played a major factor toward the success & sound of Finnish symphonic power metal band Nightwish, I feel Chantry has found that perfect fit in Francesca Vernaccini.   The only thing missing here was maybe two or three tracks of just Alessandro Monopoli shredding away on guitar as he did so brilliantly on the 'Emancipation of Elizabeth'.   Other than that I simply love the new path that Chantry has taken and I am safe to call 'Crystal' a near flawless recording with substance galore.   I am, without a doubt, a Chantry fan and I hope that you will be too!   Chantry's music will captivate you and I can not wait to see what roads they travel down next!
By Jimmy Rae (jrae@skopemag.com)
[Rating: 4.5/5]