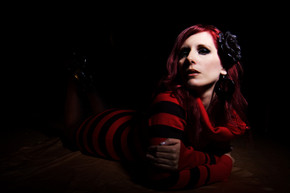 Man it is hot out there, I encourage all readers to stay cool with lots of water & A/C, & music. No weather conditions can get in the way of our constant drive for new & exciting music. That brings us to todays guest who has really impressed me with a presentation that is real, controversial, and most of all talented. Coming out of Cumberland, MD is Mina. Mina keeps herself busy as a solo artist as well as the lead in the band The Taken. I caught wind of Mina after hearing her new EP, 'Skeleton Key.' With songs like "Beautiful Death" and "Vampire Sex" my curiousity got the best of me, but I am pleased that it did.
Stoli: Where are we talking from today and do you have any plans for Fathers Day?
 
Mina: Today, I am in Maryland, visiting with my family before heading to South Carolina. We had a cookout last weekend for Fathers Day since I will be traveling this week.
 
Stoli: Would you say that the summer heat makes you more inspired to make music or do you like the cold better?
 
Mina: I absolutely love hot weather! I don't think the weather really inspires my writing however, Fall is a very inspirational time for me. There is just something dark and beautiful about the bright color leaves against the blackness of the tree bark, the intense sun contrasting with the coolness of the air, it's the one season when Mother Nature shows us the beauty of life and death combined.  
 
Stoli: At what age did you fall in love with the Goth/Rock sound and who were two artists that you listened to?
 
Mina: I don't know that I necessarily fell in love with the Goth/Rock sound, its just how the song writing develops from my life perspective of everyday situations. I work with great musicians and a great producer that understands my personality and how I want to convey the ideas musically. I pull inspiration from so many artists from multiple genres…anything from Led Zeppelin to Five Finger Death Punch… (laugh) those guys kick ass!  
 
Stoli: Is Mina Murry your real name and if not how did you come up with that?
 
Mina: Mina is a nickname, as for my last name, it is a very long German name that is pronounced incorrectly 99.9% of the time, so it was better to apply something easy to pronounce and remember. Murry just kind of flowed and stuck.
 
Stoli: You are in a band The Taken and you are a solo artist too. How do you juggle both and is there ever conflict when it come to who gets what songs?
 
Mina: Sometimes the line gets a bit fuzzy I mean The Taken has done Mina songs and vice versa but I think the style is so similar that we make it work. My lyrical style doesn't change between projects, I think the difference comes through in the instrumental composition of each song. I have different writers for my solo project and that becomes apparent when you listen to my solo work and then listen to The Taken. On a side note, The Taken members have gone on to do other things which is allowing my bassist and I to write material for a new project.
 
Stoli: Your five song EP is some powerful music. Where did you record that and who did you work with?
 
Mina: Skeleton Key was recorded at Seventh Wave Studio in Harrisburg, PA. I have been working with Producer, Jason Rubal, for many years. Jason has some of the most talented session players you could ever want and he is very good at bringing the artists ideas to life.  
 
Stoli: I really like your song "Beautiful Death." What is the meaning to you behind that song and will there be a video for that single?
 
Mina: Thank you. I am a huge True Blood fan, well vampires in general, and this song was written during season three of the TB series. If you think of the old vampire movies, the vampires enter the victims room at night and once the victim sees them they are terrified but then again they appear somewhat intrigued even aroused at the idea of this creature taking them and turning them into a vampire. So as I watched this program, these same situations are conveyed in the characters of the True Blood series. As I began writing "Beautiful Death", I started off with that idea but the concept can apply to any relationship that you know is very bad for you but you still want it, we all have been with that person and either you break free from it or lose yourself in them.  
 
Stoli: Do you feel extra pressure to stay in shape and be sexy as a female musician?
 
Mina: It's just part of the business. You do what you have to make the business as successful as you can and looking the part is just a bulletin in the company policy.
 
Stoli: What is coming up for Mina and where you at online so we can follow you?
 
Mina: Working on a Fall tour on the East Coast is my main focus right now but we will be writing new material and heading into the studio shortly thereafter. Readers can go to www.reverbnation.com/minamurry for tour dates, music, pics, and all the latest info on my other music projects.