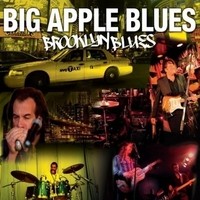 Brooklyn Blues are as you would assume from Brooklyn. The album was recorded in 2010 but I'm not sure how long they have been a band or if this is their first release. They are a four piece outfit adding extra musicians for the recording. The album is a healthy 50 minutes long…..not too long and not too short, a standard "set" length of an album. They have a rather splendid website along with the usual online presence of Facebook etc and seem to be quite internationally prolific at the moment playing in Italy, Slovenia, New York and even Indonesia!
If you were hoping for something different or new in the blues genre then you are out of luck, but what you do get with Brooklyn Blues is a healthy smattering of blues shuffles, passionate and dirty riffs, occasionally traditional and often very raw. All the songs are effortlessly held down by Barry — the Barron of Blues — Harrison on drums comfortably shuffling his groove. Stuck to him, like glue, is the formidable Admir — DR Blues — Hadzic on bass. They are augmented with raw driving guitar (there must have been many a broken string!) and milk curdling harmonica by Zach Zunis and Anthony Kane respectively. Anthony's vocals sit comfortably in the middle of the mix. Gutsy, melodic and relentless harp and guitar solos all executed with confidence and guile. They make it sound easy. Reminiscent of George Thouroughgood at times. The mix is spot on, great bottom end and not too much of the harmonica. Big and full sound to say it is essentially a four piece band. I love the reverb on the album. Like good reverb does, it sounds like the band are playing live and you are right there with them which is the best way to experience a blues band of course. The production team have really done a great job in making it sound "real" and true. It is an organic experience in the best possible sense.
The album is broken up nicely with original tracks like Brooklyn Swamp and Killing Floor and the Rock 'n' Roll number Honey Hush but the rest of the album is a bit predicable. After 5 or 6 blues shuffles I am ready for something else, something which probably wouldn't bother the "purest" blues fans. That would have to be my only criticism.
All in all, this entire band are fine exponents of the blues. They are doing a good job of flying the flag for the genre and they must be doing something right to be touring in some very exotic sounding places! I thoroughly enjoyed the album and know what to put on when I need some low down and dirty blues. I will certainly be looking out for their follow up album.
WRITTEN BY LEIGH STOTHARD
[Rating: 4/5]