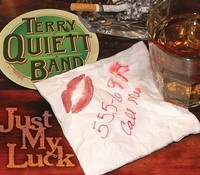 The Kansas singer/songwriter guitarist has come out with a 13-track release of originals, accompanied by his touring trio partners, Aaron Underwood on bass, and Rodney Baker on drums.   Added keyboards feature Rick Steff, and Beau Jarvis.   On this release, you can definitely feel his influences like Clapton, SRV, BB, The Allman Bros, etc.  
Karma is a nice fast paced jazz lick laced blues tune.   You're My Kind shows some Hendrix and Eric Gales influence.   Big Man Boogie is a piano driven fast shuffle. Work For It is a mild mannered, 40's blues/jazz club nuance.  
Satisfied is a nice rolling groove reminiscent of both The Doobies and EC.   Fool's Gold slows it down a bit, with some neat licks.   Judgment Day and The Woodsman feature some dobro styled 30's feeling storytelling.   Close To You is a ballad featuring his softer side of both singing and playing.   Signs Of Decline is a straight up blues tune with some interesting chord and vocal changes.      
Terry does a good job of interpreting what he learned from the masters.   His voice has some range, and is not overbearing like many.   The jazz/blues licks compliment the tunes, and add some depth to them setting them apart from the multitude of touring blues boys.   The method of blues storytelling combined with tasteful licks, benefits from the lack of over production.   A good sounding release from a veteran performer!
By RME
[Rating: 3/5]