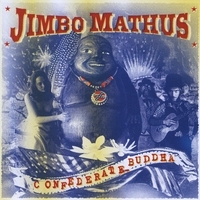 Best known for his efforts in the blues/swing band the Squirrel Nut Zippers and working with Buddy Guy, Jimbo has taken his roots on the road with a new band, The Tri-State Coalition, while composing a discs worth of tunes.   Jimbo's take on the blues is hard to describe.   The late legendary producer Jim Dickinson called him "The singing voice of Huck Finn." He describes his music as, "Catfish Music For The Masses".   Jimbo is definitely a storyteller, combining various Southern styles with some unique sounds and mixing.  
Jimmy The Kid may be slightly biographical sketch of Jimbo. Cling To The Roots deals with fleeing floods, which he experienced while touring.   Wheel Upon Wheel is a nice slow paced Dylanesque tune.   Town Without Shame takes on an old Country & Western, Hank Sr. feel.   Shady Dealing is a Southern up-tempo blues/rock tune, right at home with his contemporaries.   I can almost picture The Stones doing this.   Walks Beside, is a nice slower ballad offering, relying more on the storytelling voice and backing vocals than the instruments (I can picture The Mick singing this one too).  
Leash My Pony has a swampy Cajun spirit, with a jerky rhythm, which works well, ala Alan Toussaint.   Days Of High Cotton is a pedal steel backed ballad, again telling a story of the south.   Aces And Eights, is a neat story with a zydeco/Mexicali saloon backdrop, which was inspired by the infamous "Dead Man's Hand" hand held by Wild Bill Hickcock while catching a bullet in the back.        
Well, you get a little old C&W, some Cajun, some straight up blues.   Jimbo certainly touches on a multitude of styles and genres, but makes them interesting via both the vocal and instrumental delivery.   Nothing boring to be found here.   Kind of cool!  
By RME
[Rating: 3.5/5]