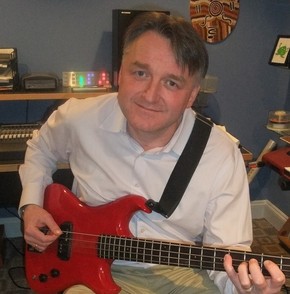 Paul Dowding composes, performs, programs, records and produces all his own music.   He started when he played bass in rock bands in the US and UK.   Upon moving to the US, his keen business mind launched him into a corporate career.   However, he kept things going musically with a band called the Hemlocks.   When the group dissolved he started  exploring digital composing which has brought him to where he is today.
Who were your biggest musical inspirations?
I have always been drawn to atmospheric and instrumental music. I have eclectic and UK biased (as I was born there) tastes. I appreciate stand-alone musicianship and melody. I also appreciate that no-one should or would ever want to hear me sing. Through the timing and geography of my adolescence and young adulthood, the UK's post-punk, new-wave sound and possibilities of the 80's is fairly dominant in my influences. The most significant influence is Simple Minds. Unfortunately they are best known for "Don't' You Forget About Me" from the Breakfast Club movie, but are still recording, touring and have a wonderful, experimentally-driven, evolving catalogue of 15 albums to draw from. The Cocteau Twins would be a close second. From the Electronic side: Jean Michel Jarre, Vangelis and Hans Zimmer. From a hard, progressive rock side: Deep Purple, Pink Floyd and It Bites. From a funk & and particularly bass guitar playing basis it is Mark King and Level 42 (although I would never to pretend to be anywhere near that good). I could add U2 as well but that would be too obvious, so I won't.    
 
Define your music.
 
Bloody brilliant, 80's-influenced Atmospheric, Electronic, Rock Instrumentals. However, I have been told I have a biased opinion. I have no shame (or embarrassment) in using "80's" big synth sounds in my work. Just for the record's sake, I only became a Duran Duran fan after the "Notorious" album and John Taylor, the bassist, is an underappreciated, competent and prolific independent artist. Only with experience, did I later realize that the producers Trevor Horn, Brian Eno and Daniel Lanois were great influences in my immediate and peripheral musical experiences. I only mentions these gods of the mixing desk in the vain hope that you might unjustifiably and mistakenly mention my music in the same sentence with any of them as I am so blatantly doing so here.  
 
Where did the name Hobliminal Ibloid come from?
 
A rather secluded but attention-seeking part of my cerebral cortex, I believe. My first band was a heavy, progressive rock instrumental band called Mordor. As we evolved and started including some songs and humor in our performances (we also started wearing silly clothes on stage), the dark and foreboding name just didn't fit anymore. Unfortunately, as we all had different tastes, influences, abilities to hold civil debates, shocking personal habits in the case of one individual and opinions, which, while it helped with a diverse musical set, there was no suggested name that all of us liked, all of the time. This was usually because of the differences in the implied meaning. In frustration, I compiled a list of meaningless names and combined two of them to make "Oogie and The Bantras featuring The Hobliminal Ibloid". Much to my surprise, the band loved it! When I started recording my own music, I picked the latter as my alter ego. Note: As an homage to my past, in my video for "City Beat" the characters attend a concert of "Oogie & The Bantras".
 
Tell me about your cds?  
 
Well there's actually only one, technically. Over the years, in the development of my musical style and abilities (primarily the latter), I have released several EP's. Most of these songs or the re-recorded or re-mixed versions of them ended up on my official, debut CD. It was released in 2009and titled "Action at a Distance". It has twelve instrumental tracks on it that cover the spectrum of styles and sounds that represent my work. The title track was actually a re-worked instrumental track that I wrote back in my "Oogie" days. We never did a demo of it and I only had a rough recording of a live concert version, so I always wanted to record it properly. Apart from the final artwork by the replication service Oasis CD, for which I provided the conceptual ideas, I did everything else myself. I wrote, programmed, performed, produced, made cups of tea, mixed, laughed, cried, went to the bathroom after the third cup of tea and mastered for all the tracks all on my own. So as well as being a concept album of my musical and personal journey and how my past and music affected my future, it was a pretty exhausting journey in and of itself.
 
What do you want listeners to get from your music?
 
The irresistible urge to go buy it and recommend to several hundred of their friends to go do the same. Apart from that, I hope that it resonates with them on some emotional and visual level. All my music is inspired by someone or something, so my goal is to capture the essence of that idea as a musical picture or feeling. Music I love, does that to me. I aspire to the goal that my music does that to someone else.  
[youtube 0YtALklkSOo nolink]
What new projects are in the works?
 
A brand new CD! I am about to start mastering four new tracks and have eight others in the works for the next CD. The concepts for the whole album are slowly coalescing but I am excited about the diversity and direction of the new tracks. I will publish the four new tracks digitally ahead of the album when they are finished.
 
As for other exciting news, I have never played live as The Hobliminal Ibloid but I am toying with the idea of re-uniting with a trio that I played with in and around NYC called The Hemlocks. With that under my belt I might consider attempting a live performance as Hob as support or independently. However, as a prior performer, I realize the importance of entertaining your audience and want to do it well.
 
On less exciting, but very important all the same, news, I continue to explore innovative and, hopefully, cheap ways to promote my music in the digital universe! (And to think, back in the 80's we thought that meant color coordinated watches and cool phones with buttons instead of dials).  
 
What would you like to be doing 5 years from now?
 
I hope I am deluged with licensing requests for my music and am struggling to keep up with the demand. But back in the real and more likely world, I have an independent business in another field, that allows me to sponsor my creative and artistic pursuits. With the developments of technology and entertainment, I believe there are a great deal of opportunities to non-traditional outlets for musical content. My goal is to be a part of that new industry. I have experimented successfully with animated video and would like to further develop those outlets too. Extrapolating as far into the future in an equivalent leap from the 80's until now, we will be swimming in a hologram of information and entertainment, which hopefully will include my music, fully paid for!
 
Where can your music be purchased?  
 
At all good stores and retail outlets! Part of what I was describing above about the future is already here. My physical CD's are with CDBaby.com, whom I would recommend strongly to all new artists. Through them, I have pass-though agreements such that my music is available physically and digitally through Amazon, i-Tunes, Napster, Spotify and multiple other more local and eclectic sites. I have the distribution, I just need to get the word out! Well Skopemag is a good start!
By: Diana Olson – diolson05@yahoo.com