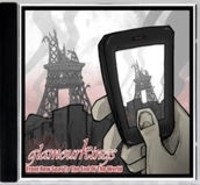 I already like these guys due to their no-nonsense, no-bullshit attitude and mentality.   Finally…a band that makes a very conscientious record that I can completely relate to.   Glamour Kings is their name and 'Front Row Seat To The End of the World' is their game that needs to be played carefully.
Right away from the album title you sense that this will be an overly negative, dark and heavy record full of bleak & dismal imagery.   There are definitely dark undertones depicted here but overall the Glamour Kings sound is actually an electronic dance-rock vibe that is extremely catchy.   There are even club-friendly songs such as "Media Darling" that will keep you movin'.   Glamour Kings is a trio made up of: brothers Michael Urge on vocals, guitar, bass and synth & John Biordi on drums plus John Billian on live synth & guitars.   This group has got my attention because they have created a monster that is worthy of sincere recognition.  
What I love most about this NY threesome is the powerful & effective message they are delivering.   The Glamour Kings and their new release are the new medicine for a sick world.   They are calling out people one by one who are sucked into to all the crap that is our popular culture of today.   From a superficial society to greed to celebrity status to crappy pop music to garbage on television, Glamour Kings cover it all and then some.   The media caters to the people while these same individuals become desensitized to all the madness around them.   Glamour Kings hope to change all this with 'Front Row Seat To The End of the World'.  
I commend these musicians for bringing these topics to the forefront because it is much needed right now.   So many things have gotten out of hand and Glamour Kings are asking you to change your ways before it's too late.   Time to wake up and smell the coffee that the Glamour Kings are brewing for you which is hot & fresh.   Message heard loud & clear boys–thank you!
By Jimmy Rae (jrae@skopemag.com)
[Rating: 4/5]