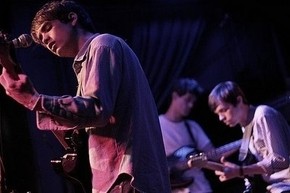 What a great way to explore the music scene in a new city. Recently relocating to Portland Oregon from Austin Texas, The Strange Boys, a four piece from Austin, made me feel right at home. East End, in Southeast Portland was the host for said event. A steamy basement venue with black walls and low ceilings, was the perfect setting for a dirty rock show.
Natural Child, a threesome from Nashville graced the stage first.   With straight up comedic rock songs about, smoking crack, fucking girls you don't want to fuck, and being fucked up on the beach, this band was surly amusing. A few times I found myself giggling at how literal their song lyrics are. Natural Child is a more than questionable band. Within the duration of their 45 minute set, a definite love hate relationship had formed. I was entertained, but was ready for Nashville to take back their dream catchers, ironic mustaches, and old man arms. It was time for some Texas take over.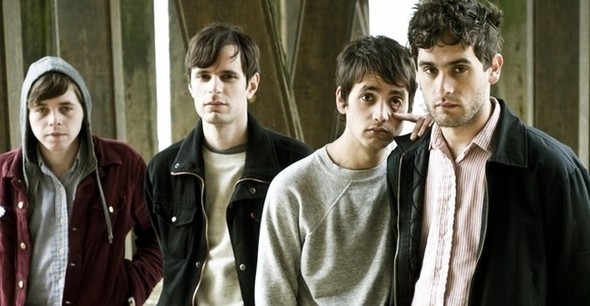 The Strange boys made sure that happened. Strange boys are a dance-inducing good old American rock band, with evident influences from the garage rock, r&b and country punk genres. The guys played a solid set mostly composed of songs from their new LP "Be Brave" (Into the Red/Rough Trade Records.) The album is quite good, and honestly I'm glad their delivery of it was just as audible, cause unfortunately the boys are the most robotic poo-faced band I've seen in a long time. Like 5 year olds who collectively got their lunch money stolen. The show got gradually more entertaining when the older tunes emerged. The small basement venue was transformed into a sweaty dancing mid-twenty something cesspool. You can't help but move your ass to this music. "Woe is You and Me," complete with howls from the band was a total crowd pleaser. Singer, Ryan Sambol has a unique winey squealing vocal that, paired with any other type of music would sound slightly annoying. This just fits! Wrapping up the show with a broken string and a call-and-response guitar solo, The Strange boys finally decide to speak up, uttering "Thank you, it was a pleasure. We always play East End, so you know where to find us." Ryan Sambol with his brother Philip Sambol on bass, Mike La Franchi on drums and Greg Enlow on guitar, form a matchless oiled machine, one that sounds so familiar, yet completely new. Thanks for taking me back to the deep south boys.
www.myspace.com/thestrangeboys
By: Gin Hebert – gingerh@skopemagazine.com