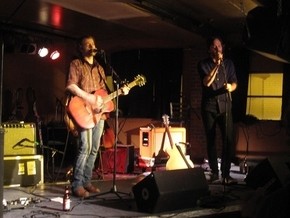 Rocky Votolato spent years singing in the band Waxwing with his brother Casey and friends, before shying away from the post-hardcore and establishing himself as a singer-songwriter. His latest album True Devotion was released on Barsuk the record label in 2010.
Rocky has a way of putting deepful meaning into simple songs and making them extraordinary by expressing his emotions with raw power. His songs convey a feeling of passion, love, and pain that only could have been experienced firsthand.
On what was the nicest day of the year so far, seventy degree weather with sunshine as bright as ever, Rocky and his good friend Matt Pond took to the stage at The Loft in Poughkeepsie, New York. Acoustic-music enthusiasts went mad for this. Pabst in hand on a cool spring night, a group of people gathered to listen and sing along to the words they've come to relate to.
The stage was small but fittingly intimate. Rocky stood dead-center with his guitar and harmonica. His set opened with Tinfoil Hats off of his album Makers, a song about the past and fond memories. He sang about how things are simple to us now, but change happens whether you're ready for it or not.
What is a man to do when his acoustic is being drowned out by the bass from Sludge Factory (Alice in Chains Tribute band) playing next door? Tell the sound man to turn the guitar and vocals all the way up and sing like it's all you've got left within you. A clearly aggravated Rocky strummed harder and sang with more power and emotion, captivating his already enamored audience. He poured his heart out to the crowd, the only way his songs were meant to be heard. After his performance he laughed to himself and told a cluster of people that he was only aggravated for us, his audience, because we took the time to come listen to him. He insisted we deserved the best of him and his music. He delivered just that and more.
With a setlist containing an assortment of songs off of a few of his six albums, Rocky finished the night with a request: Montana. A song about love, and leaving a small town to find something better. A perfect and appropriate song to end an acoustically magical night.
Setlist:
Tinfoil hats
fools gold
portland is leaving
white daisy passing
sparklers
instrument
alabaster
the nights disguise
goldfield
tree people
red river
makers
suicide medicine
montana
By Chris Jolicoeur – untilmyheartdies@yahoo.com