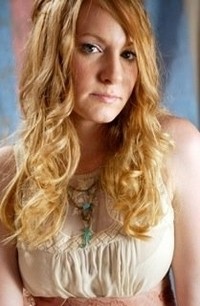 I don't usually say this but I really do feel like a star is born after hearing Morgan Bracy's new release.   I never had a chance to hear her critically acclaimed debut album 'Dirty Laundry' but I can now say that 'End of Cinderella' is a brilliant piece of work. Everything about this album worked from all angles and Morgan Bracy has my full & undivided attention.
Morgan is a Nashville-based singer/songwriter who brings an interesting concept to the table.   'End of Cinderella' offers the listener an attractive alternative to the fairytale world.   Prince Charmings and Knights in Shining Armour do not exist in Morgan Bracy's world which offers women everywhere that sense of empowerment & independence.   The only one sweeping anyone off their feet is Morgan Bracy with her standout performance.  
It certainly doesn't hurt that Grammy-nominated songwriter, engineer and producer John Merchant put his stamp on this 11-track recording.   Merchant has worked with the likes of Celine Dion, Toni Braxton, Barbara Streisand, Michael Buble and Mika so he obviously knows his business.   The final result for 'End of Cinderella' is an extremely well-polished and top-notch recording with no flaws to speak of.
Morgan is a country/pop artist with folk influence who has such a genuine & honest touch to her.   The amazing part here is that vocally & musically each and every song is catchy on all accounts.   This really impressed me because it's not everyday you hear an artist tap into each aspect so perfectly.   Morgan and this new record display major pop appeal and that is because Morgan Bracy realizes who she is and what she wants out of her music.   For this reason alone, I can easily see this record on the charts right now.
I have to say that Morgan's singing was so good where her voice has such a pure & sincere quality to it.   Her vocal range & pitch were spot on and her voice control is impeccable.   It's just an overall nice sound with a pleasant and emotionally solid vocal delivery from Morgan Bracy.   On track five "Love, Believe in Me", you're hearing a wonderful harmony & melody as this singer/songwriter adds in acoustic guitar to the whole mix.   This is one of my favorite numbers on the album because it exhibits excellence at its finest by proving that Morgan is not just a great singer but also a multi-talented musician.   The change in style and pace was also picked up on where Bracy could give you a peppy 'n' poppy, feel-good tune on "Real Life Fairytale" and then turn around and give you one grippingly powerful & beautiful performance on track 10 "When She Loved Me".  
Morgan Bracy is the total package because she's a singer, performer, songwriter & music artist who knows exactly where she stands with herself and her audience.   I would think that 'End of Cinderella' will be a hit record that gets a ton of press and a lot of attention.   It is certainly not the end of Morgan Bracy as I feel she is just getting warmed up!
By Jimmy Rae   (jrae@skopemag.com)
[Rating: 5/5]