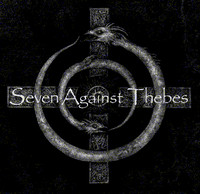 Over the years we've seen rock & hard rock slowly erode into over-commercialized, corporate puppet shows providing us all with music that is extremely sing songy, predictable, highly popish & overly corporate sounding. I hereby call this new breed of music "Poser Rock" & I want to take this time to personally congratulate all the corporate giants for successfully transforming "Sex Drugs & Rock n Roll" into "Yoga, Vitamins, & Nikelback right under our noses" Of course the musical lemmings out there don't know the difference, but not everyone is amused. Talking to many music fans out there the response is overwhelming. Give me something new, something raw, something that's pushes the envelope. Something that doesn't sound like Nikelback, Daughtry or Lifehouse. Give me a jagged edge, a bloody tip & a no holes barred musical delivery. Above all – give me something real!
So across my desk slides the new CD by Seattle 4 piece Seven Against Thebes headed up by lead singer Rusty Hoyle, guitarist Cyrus Rhodes (also producer) drummer Bruce Burgess & bassist Mr. Black. 7AT is one band that's not afraid to take the risk by going back to the Seattle hey day when bands like Nirvana, Soundgarden, & Alice in Chains once ruled the airways. If you like the above bands you should definitely check out this band. CD is available on CD BABY & can be downloaded on I – Tunes. Honorable mentions go out to exceptional drumming of Bruce Burgess.
The debut Seven Against Thebes CD personified the Seattle sound, but if grunge is what your after you wont find it here. This CD is a skillful combination of Progressive Metal, Alternative Rock & Hard Rock. No doubt this bands sound will evolve over time so I give it 4 of 5 stars. However –   an impressive foundation nonetheless with great chops, solid writing, & a jagged edge musical delivery. It's clearly an intellectual record with clever lyrical content & a degree of unpredictability. It's definitely a record that gives us a fresh glimpse at a hot new band but takes us back a few years — before everything started sounding like — well Nikelback.  
By: Kevin Huber
[Rating: 5/5]