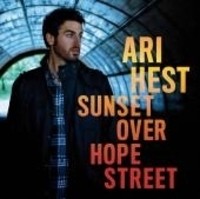 Ari is a solo guitarist/writer that relies on the ballad to rock format, and also worked in a side project, The Open Sea with Rosi Golan.   On this release, he worked in other instruments like piano and strings to take the lead away from strictly guitar.   He had his release of The Break-In in 2007, and then took off on a journey "52" to write 52 songs in 52 weeks.   Performing Songwriter took a reader's poll to determine the 12 favorite songs to release in 2009 on Twelve Mondays.
The songs are of a storyteller nature relating life and relationships (not a new songwriter topic), but work in the fact that they aren't rehash of the Train, Plain White T's, Maroon 5, and soundalike genre.   Until Next Time, is a ballad with some nice arrangements.   Business Of America has a Simon and Garfunk feel.   One Track Mind relies on an organ lead in, and is a relationship tale which you can nod your head yes to.   If I Knew You'd Say Yes, is a nice flowing medium paced track.   The title track, Sunset Over Hope Street, offers a neat piano led, drum shuffle ballad.   Down The Mountain is an acoustic guitar based melody, and Swan Song has a Latin flavor that Sade would be at home covering.   A Good Look Around is a ballad that has a Southern/Cajun violin led feel.      
I half expected to be bored (due to a recent gaggle of singer songwriter guitarists), but I was pleasantly surprised.   There's a lot to like about this release, a lot of meat on the bone.   Ari has a good voice, and command of songwriting and song content structure.   Probably the best compliment is that you can hear Paul Simon, John Mayer, James Taylor influences come through in a unique way.   He is a touring/road junkie; so keep your eyes open for a date near you!
By RME
[Rating: 3/3]