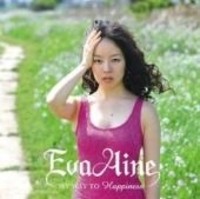 First thing I notice from this young lady is how powerful her voice is.   Eva Aine's singing ability is absolutely superb and 'My Way To Happiness' shows off her flawless vocals brilliantly.   This woman can SING with the best of them out there and hold her own quite well.  
Eva Aine is a singer/songwriter that was raised in Japan and Seattle.   Just like the late, great Selena crossed major cultural barriers, Eva is doing the same exact thing here with her debut release.   From the Far East to the U.S. Aine is ready to take the world by storm!
Eva's style incorporates some jazz, R&B and soul and what a performance she puts on.   Aine sang all vocals on the record while TK handled the instrumentation.   Both artists came together in stellar fashion to produce this wonderful piece of work.   The arrangements were very well done as Eva & TK give you 100% professionalism by hitting all the high points musically, vocally & artistically.  
There are a nice mix of songs on this new album where you hear English and even some Japanese.   The international appeal is evident but Eva makes it all work universally.   The disc opens with a smooth, easy-going feel on "Heading To NY" while tracks 4 & 5 offer up a more elegant approach.   On installment five "Magic", magic was definitely in the air because Eva sang softly however it still came across as extraordinarily powerful.   You can even hear her classical training coming through nicely on this song.   On the title track Eva is just havin' fun as you really sense her happiness shining through.   It really sounds like she's got a lot to be happy & thankful for on "My Way To Happiness".   Aine ends on a spiritual note with "The Lord's Prayer" where she is really digging deep inside herself here.
One of the things I enjoyed most about this record was how much soul Eva pumped out to the audience.   Aine is singin' loud & proud as you can really feel her genuine touch coming across.   The one aspect that just blew me out of the water though was the voice.   Eva displayed excellent control and one incredible vocal range to go along with a pitch-perfect sound.  
I have to say it would have been cool to see Eva really let loose and bring a couple more uptempo numbers to the table.   Also, it would have been very interesting to have one full album in English and another in Japanese.   Eva Aine has got major skills vocally and she's not afraid to show it.   'My Way To Happiness' is a singer's delight and the record will leave you feeling more than satisfied.   Aine is the total package so be on the lookout for this new sensation.  
By Jimmy Rae (jrae@skopemag.com)
[Rating: 4/5]