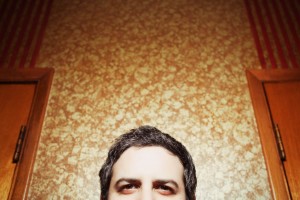 Say Hi is the brain child of Eric Elbogen. As the single official member of Say Hi Elbogen is a one man music making machine. On his records he plays the instruments, sings and then puts it all together. However, he tours with other musicians and has had nearly forty band mates coming and going since founding Say Hi in 2002.
Now on his 7th album entitled Um, Uh Oh Elbogen has really struck a high note in his career – it signals a shift in his music-making that indicates a heightened musical sensibility. He has veered away from the more emo, down-tempo electronica and opted for a much more eclectic combination of chords, piano melodies and lush and varied instrumentation. He's shortened the band name from the longer Say Hi To Your Mom and has managed to throw off the vestiges of the depressed youth bent over his midi controller and laptop.
Elbogen's vocals have also gone through their own transformation — he no longer sounds like a kid, he has a more world weary voice. It's a grittier voice that serves well as the conduit for the often bitter lyrics. My favorite song off the new album is "Take Ya Dancin" — it is playful and upbeat and makes you want to dance.
Say Hi is coming to The Earl this Friday with Blair, La Sera, and Tennis. Doors are at 9:00 PM and entrance is $10.