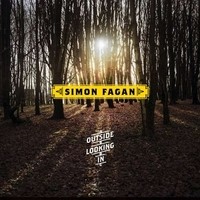 All I have to say after hearing 'Outside Looking In' is that Simon Fagan is one hell of a singer/songwriter.   The buck doesn't stop there though because musically this album also shines.   Fagan proved to me and hopefully proves to everyone out there just how a solid record should be made.  
Simon is the sole writer of all 12 songs as he handled lead vocals, acoustic guitar, trumpet and trombone on the CD.   I have to also mention that there were a number of excellent musicians backing up Fagan here.   The overall band presence was overwhelmingly good and honestly music to my ears!
You will hear that style-wise, Fagan mixes various genres to make up one enriching sound.   You'll pick up on pop, rock, folk, country, gospel and acoustic rock elements where it seems that Simon Fagan was born to do just this.   Based on the cover art, I'd even go so far as to call this album Woodsy rock due to the rustic forest scenery.   Whatever it is, the sound & style work brilliantly as Fagan & company offer you some appealing musical sensations.
Right out of the gates on the opening number "Something I Don't Know" you're listening to a song with catchy vocals that grabs your attention automatically.   I also picked up on just a good, all-around feel and this continues on as the CD spins away.   Rolling along you're witness to some fine acoustic guitar playing from Fagan that really sparked my interests.   The guitar is really just happenin' all the way especially on track five "Won't Let You Go" & "Damn Honey".   I can't say enough about the wonderful melodies and harmonies where Fagan's impressive vocal range & dynamics were heard loud & clear on "Love Don't Work".   On this installment you are receiving a unique vocal approach that really made the song and it even offers a certain mystique to it.   You're really getting a little bit of everything goin' on here as Fagan puts forth one powerful performance.   Another song that included some very nice harmonies where I even caught myself humming along was on "Water's Edge".   This track has a great spirit and truly feeds you a southern, down home cookin' feel.   Fagan's tunes stick to you like glue and a perfect example would be on "Never Really Cried" where my lovely girlfriend was even singing along.   I even heard a little Bob Dylan coming through on certain songs and one in particular that stands out would be track four "Plastic Compass".   Clap along to the catchy pop-induced "Memphis" then turn around and be prepared for an extremely peaceful sentiment on the title track.   I have to say that I thoroughly enjoyed the curtain call on "Time To Go" where a classical orchestral effect comes into the picture.   I thought this was an excellent way to close the show with a very nice touch.  
I'm very eager to see where Simon Fagan takes it next.   Truth of the matter though is that 'Outside Looking In' is a positively superb step in the right direction.   And I stand by my words during my interview with Simon where I stated that "this musician's voice blends in perfectly with the music at hand; the three C's: crisp, cool & catchy."   Be on the lookout for this music artist who I feel will take over radio/air waves very soon!  
By Jimmy Rae (jrae@skopemag.com)
[Rating: 4.5/5]