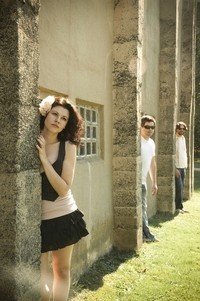 The Krista Parrish Trio is: Krista Parrish on vocals, mandolin & piano, Steven Murphy on bass and Michael Fazekas on drums & percussion.   There were also guest musicians on two tracks: "When" & "Easier Said Than Done".   Krista was responsible for writing all the songs with the exception of one, "Eye To Eye", which was written by her brother Corey Parrish.   Krista even had a special thanks & dedication to her brother on the inside cover that will eat your heart out and those liner notes read: "Corey Parrish, my brother, my best friend & musical soul mate.   You will forever live within my music which will always be 'our' music.   This album wouldn't exist without you.   Your spirit and inspiration get me through everyday.   I love you.   Thank you."
Obviously right away I'm feelin' a lotta love and so this could make for one special album.   With two EP's and one live LP to their name, 'Playing With Pendulums' is the first full-length album for The Krista Parrish Trio.   This group is in good company because the Trio had the pleasure of working with Grammy award winning producer & engineer, Glenn Barratt of Morning Star Studios.   It's also worth mentioning that Krista is currently working with Stephen Wrench who was the manager of Lynyrd Skynyrd for 18 years.  
Krista Parrish Trio "Mexico" MP3: http://www.skopemag.com/audio/MexicoKP.mp3
I have to say that all 12 songs had such a professional touch to them thanks to the crystal clear production.   Not to mention the musicianship coming forth from Krista & company was off the charts.   The style was very refreshing to say the least with rock & folk influences shining through as core elements.   Push play and instantly you hear a happy-go-lucky instrumental on "Happy Guitar".   On the next track "Hola Nino Hermoso", you will notice an interesting vocal delivery that makes Krista a unique artist.   There was a mix of cool instrumentals and songs with vocals that added a well-balanced seesaw effect.   Krista's voice seems to have a certain charm to it that displayed a classic meets modern touch.   The real magic though, I feel, comes by way of Krista's guitar playing where I simply loved the acoustic quality.   The best way to describe Krista's overall performance is that she has a voice that makes you listen and a guitar that speaks to you.   Krista brings her guitar to life just by the way she plays.   Her trusty sidekick closes the show with style & finesse on "Head First, Heart Last".   I also picked up on a hellacious drum beat on track nine "Mexico" that is fast, lively and oh so good.   Michael Fazekas' performance really helped carry this song along with a phenomenal guitar presence from Krista.  
In the end I am very impressed with what I heard from The Krista Parrish Trio.   'Playing With Pendulums' is sure to be a hit but don't take my word for it!   "Easier Said Than Done" has already went to #1 on the indie rock Americana music charts & the "all-genre" music chart.   "Mexico" was selected for a national compilation release from Blue Collar Records called "Gods of Indie Guitar" that will be available at many online retailers along with FYE, Hot Topic and Be Bop Stores.   The Krista Parrish Trio music can be heard on Pandora.com and their songs are being played at FM radio stations all over the U.S., Canada and Europe.   Ready or not…here they come!  
You can purchase her music at: iTunes, amazon.com, cdbaby.com, rhapsody.com, cduniverse.com, her official website and soon will be available worldwide by more than several hundred distributors.   Don't miss your chance to hear this band for yourself because they definitely have that certain something that will take them far in the music world.   In the meantime here is a touring schedule and some cool links where you can find out more about The Krista Parrish Trio.
Wednesday, March 2nd, 2011  
World Cafe Live
NY SONGWRITERS CIRCLE – tba
3025 Walnut Street Philadelphia PA 19104 US (215) 222-1400 [map] Price: tba  
 
Friday, March 11th, 2011
Cedars Pub
Band Show – 8
Skippack PA 19474 US
Price: tba  
 
Friday, March 25th, 2011
Congress Hall-The Boiler Room
Krista Parrish Showcase – 9pm
251 Beach Avenue Cape May NJ 08204 US 888.944.1816
 
Friday, April 8th, 2011
Chaplin's – The Music Cafe
Krista Parrish & Christie Lenee Cobill – 8pm
66 North Main Street Spring City PA 19475 US (610) 792-4110
Price: $15  
 
Saturday, May 21st, 2011
TD Bank Amphitheater
SoberStock Music Fest – tba
2400 Byberry Rd Bensalem Pa 19020
Price: $25, $20 in advance  
 
Saturday, June 18th, 2011
Morwood Sportsman Club
Opple Topple Music Fest – tba
111 Wambold Rd Tylersport PA 215-257-1335
Price: $50  
 
Saturday, June 25th, 2011
Ross Mill Farm
Piggy Palooza – 2pm-9pm
2464 Walton Rd Rushland PA
Price: $10 suggested donation
Help Ross Mill Pig farm, a refuge for abused and abandoned pigs. The farm promotes domesticated pet pigs, provides info to pet pg owners, vets, shelters and humane societies.
 
www.kristaparrish.com
www.youtube.com/kristaparrish
www.myspace.com/kristparrish
www.facebook.com/#!/pages/KP-TRIO/119425101417492
www.mog.com/artists/mn194256/krista-parrish
www.tradebit.com/filedetail.php/95653696-krista-parrish
www.last.fm/music/The+Krista+Parrish+Trio/Playing+With+Pendulums
www.pandora.com/music/artist/krista+parrish+trio
By Jimmy Rae (jrae@skopemag.com)
Photo By: Colleen Stepanian
[Rating: 4.5/5]