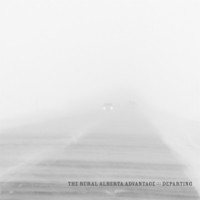 Not long after the intense and equally cerebral and visceral shock of Hometowns, the debut from The Rural Alberta Advantage, wore off many were left wondering: how would the band fare under the weight of expectations from their sophomore release? It was a fair question, considering how immediate Hometowns was. It was a record that spoke to the longing for simpler times which many hardened, cynical 20-somethings refuse to admit were a source of pleasure, all guised under a plaintive folk muse that lacked any and all suspicion. In short, it was nice music for nice people. And if Departing, the band's long-awaited follow-up proves anything, it's that nice guys, still, do not finish last.
The three piece, fronted by Nils Edenloff's emotive vocal style don't mess much with their original formula on Departing. The arrangements are a little more drawn out, especially throughout the spacey charm of "Under The Knife" and the rustic sway of album closer "Good Night." Departing might not contain the fervent level of immediacy as Hometowns, but genius like that is hard to recreate. What should be taken away from Departing is the fact that the band has not lost their touch for dynamic, punchy folk-influenced pop songs.
There is a simplistic, heart-warming groove on "North Star" which is as comforting as the story it tells. "Stamp" evokes a far-off place that is reachable, but only if you can believe hard enough it its vision and relentless punch. Finally, album highlight "Tornado '87" proves that it doesn't take much to write a classic. What's important is how much you believe in yourself. Which, judging from Departing, the RAA clearly do.
By Joshua Kloke – joshuakloke@hotmail.com
[Rating: 4/5]