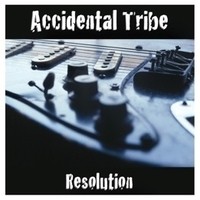 Make no mistakes because Accidental Tribe has a Resolution for you; simply listen up and listen close.   You will be attracted right away toward the infectious hooks & rhythms coming from this NYC band.   Accidental Tribe has an alternative punk rock thing goin' for them and it's really working in their favor.
The group is composed of the following: Beat 'A Tribe' Arevalo on vocals & guitar, Moe Cash on bass, Peter Harrison McWhinney on guitar and D-Boogie Wondaland on drums.   This entire band plays with such fury and a good example would be on track four "Looking In (From The Outside)" where the entire Tribe explodes!   Energy galore and an overly catchy appeal that automatically draws a listener in can best describe Accidental Tribe.  
This NYC-based band offers up a powerhouse rock sound to go along with some nasty guitar riffs.   The bassist sets the pace while D-Boogie thinks "I don't want to work; I just want to bang on the drum all day".   Beat 'A Tribe' supplied vocals & lyrics that went right along with the whole Accidental Tribe vibe.  
I really loved the fact that this group has such a cool sound that demands attention.   The mixing of punk, rock & alternative works perfectly here and so the Resolution is confirmed.   I loved the fact that song five "Supremist" had that real authentic punk feel more than any other track on this record.   I was also pleasantly surprised to hear Accidental Tribe end the show with the title track but done in a calm manner.  
I really enjoyed hearing this entire 8-track set and how band chemistry was at an all-time high.   I can't say enough good things about AT and how their style of music seemed to fit together like cheese and crackers.   Timing is right and it's now time for Accidental Tribe to take the stage and blow everyone out of the water with a simple Resolution!  
By Jimmy Rae (jrae@skopemag.com)
[Rating: 4.5/5]