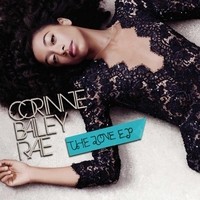 To me, when a musician does an 'artist tribute' and does a re-make of an original song, the outcome results only one of two ways. It's either a heartbreaking turn-in-your-grave piece where the artist murders the essence of the track — or the piece is "something like a phenomenon" (yeah, I bit off LL Cool J's line there).
 
In the case of Corinne Bailey Rae's upcoming January 25th release from Capitol Records, "The Love E.P.", I'd say the latter is what's evident here.
 
I remember first hearing "Like a Star" back in late 2005, and, not knowing the artist, my first thought was, 'that is such a soft, angelic-like voice'. As Bailey Rae rose to the top of the UK and Billboard charts, the British singer and guitarist's (who also writes her own music), popularity also rose. She has won various awards, including MOBO and Soul and Jazz Awards, as well as been nominated for the Grammys, MTV and BET awards, and the upcoming NAACP Image Award for 'Outstanding Female Artist'.  
 
Like so many artists before her, Bailey Rae's upcoming "The Love E.P." is truly a gem. Spanning various genres of music including reggae, funk, soul, and rock, Bailey Rae's renditions are a collection of songs that she says is "homage to some of my favorite musicians", including "My Love" by Paul McCartney & Wings and Belly's "Low Red Moon".                          
Prince's '79 classic "I Wanna Be Your Lover" is very upbeat, while Bob Marley's "Is This Love" (1978) is a soulful, slow-tempo track. My personal fave is the last track, "Que Sera, Sera", original released in 1956 by Ms. Doris Day and Sly Stone. Sung live, Bailey Rae has performed this piece as a finale piece while on tour last year, with John McCallum. You can feel her sadness expressed in this song, especially knowing that she has dealt with such pain from the loss of her husband Jason Rae, who died in 2008. In the end, "whatever will be, will be", and Bailey Rae's choice in this song seems to show that she understands and accepts this fact.
For more on Corinne Bailey Rae, check out www.corinnebaileyrae.net.
Author: Erika Y. Gradecki
[Rating: 5/5]