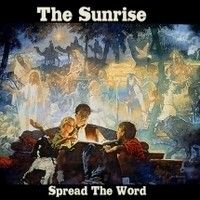 Husband and wife duo James and Rebecca Mileti are bringing Jesus to the forefront on their debut release titled Spread The Word.   The Sunrise is taking a trip back to the 70s, but don't be mistaken because these two musicians are not performing to the tune of peace & love hippies.   They are playing & singing for one person only and that is God.  
Inspired by the 70s Jesus Music Movement, The Sunrise were heavily influenced by artists of that time such as: John Fischer, Phil Keaggy, Chuck Girard & Love Song, Honeytree, Sweet Comfort Band, B.J. Thomas, Andrae Crouch and the late Keith Green.   The Miletis are now Spreading The Word on their own record that is full of love & hope.
I was worried when I read the Bio because I was thinking right away that this would be an overbearing religious album.   I couldn't have been more wrong, so I do apologize especially to The Sunrise.   I found that there music was so uplifting & positive with clear images of life & the Lord, but not overbearing at all.   In actuality, The Sunrise style is musically sound that includes a gospel setting along with elements of rock, folk, pop and contemporary.   All eleven songs on Spread The Word can easily be played at churches, clubs and any indoor/outdoor venues, which makes their music truly universal.   The easy-going, throwback vibe is there for sure, but James and Rebecca are able to bring it all up to speed for today's society.   Hanging onto the classic touch of the 70s while embracing the present & future is what this duo is all about.  
I picked up on some impressive singing and songwriting from James Mileti to go along with phenomenal acoustic guitar playing.   I could hear definite elements of folk rock coming from The Sunrise, which I feel is their knack.   Additionally, I hear singing from James that fits in perfectly with the overall Sunrise approach.   Besides nice harmonies and melodies, you will also experience wonderful sentiments, powerful words and a sublime atmosphere that will inspire you.  
One such powerful message that stood out to me would be on track six "I Have Freedom" where The Sunrise sang: "I have freedom, I have peace of mind cause I got God on my side."   Nothing wrong with having God on your side and it's refreshing to hear once in awhile.   In a world full of corruption & despair, The Sunrise gives light to a new hope & happiness that will hopefully spread to all. These free spirits have made music that is contagious and you will ALL see The Sunrise coming up over the horizon very soon.
By Jimmy Rae (jrae@skopemag.com)
[Rating: 4.5/5]