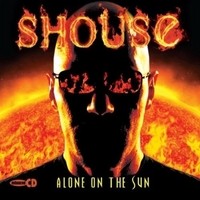 Over the years we've seen music slowly shift its emphasis away from solid musicianship to other more marketable skill sets. Fact is most of the biggest hit's in 2010 were nothing more that creative sampling, via a BOLD IN YOUR FACE MIX with an artist that possessed many cosmetic heavy attributes. Kind of like Ramon noodles for the ears. I don't have to mention the names — you already know the usual suspects. True — there is a time & place for a marketable song, but what's even more disturbing is even even Hard Rock has shifted it's empathies over to   shall we say the "Light Side" delivering Power Pop music that is over polished, clean cut & highly corporate in nature Whatever happened to Sex Drugs & Rock n Roll?   It got transformed into Condemns, Vitamins, & Nikelback. Oops looks like I did call someone out. Sorry folks but you can't mention Motley Crue, Nirvana & Nikelback in the same sentence. Well I just did it but it was to make a point.
So across my desk slides the new CD by Guitarist Michael Shouse or (SHOUSE) for short. What I heard put a smile on my face, finally an artists that finally gets it. Alone on the Sun by Shouse is some of the best new music I've heard in quite some time delving full tilt rock n roll that takes no prisoners. You want hard rock, you want musicianship that is packed to the hilt with high adrenalin? Look no further. This CD covers all the bases delivering solid playing & amazing songwriting & music that just lets it all hang out.
Alone on the Sun by SHOUSE takes us back to the early & late nineties hey day of guitar driven rock. It's a polished sounding musical production but doesn't sound overly corporate & is served hot to the touch with great playing, solid writing, & a jagged edge musical delivery. It's definitely a musical production that gives us a breath of fresh air & takes us back to our glory years before everything started sounding like — well Nikelback.  
Sydney Wilson – IMD Staff
[Rating: 4/5]