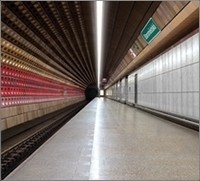 Whether you like alternative, progressive, experimental or art rock, you'll hear all of this and much more on Steve Steele's debut album The Expat.   Steele's record literally plays out like a well-written story that has three sections.   The first part focuses on Steele's character living a secluded life and feeling alone in a world full of millions.   The second part aims at the character standing up for himself with signs of him coming out of his shell.   The final part shows a sense of hope & redemption with the character finally taking full responsibility for himself and everybody and everything around him.
It makes sense that Steele has studied many literary works, which served as a major inspiration toward the writing of The Expat.   Some of these writers that Steele credits as being primary influences are: James Joyce, John Cheever, Ray Bradbury, Thomas Wolfe, Kurt Vonnegut, Jr. and T.S. Eliot.   Besides literary greats, Steele also has some music legends that played a key role in his life such as: David Bowie, Prince and Freddie Mercury.   You can pick up on the Bowie reference right away on track two "Revelation On The Radio" where you witness a singer/songwriter being born.   Right out of the gates, I'm hearing a distinct voice to go along with great guitar presence.   Moving along into the next two songs "Dramatic Girls Forever" and "Via Satellite", the good guitar playing continues while you also hear an interesting grouping/phrasing of lyrics and out-of-this-world sounds.   The record ends with a futuristic dream that will intrigue you on "Star City".   Steele ends the story with a solid conclusion that confirms an overriding theme of time due to hearing the ticking of a clock.   Time is or isn't on your side; that is the question.
Steve Steele definitely had some deep concepts here, but it never was too hard to follow.   One aspect that was simply mind boggling was the fact that Steele played guitar, bass, synth, drums & percussion yet it sounded like he had a full band backing him.   Steve invites listeners to immerse themselves not just in the music but also within the narrative at hand.   This singer/songwriter from Houston proves to be one innovative artist that seems to have a lot of tricks under his sleeve.   Steve Steele has found a style that works perfectly for him, so I can't wait to see what he will pull out of his hat next!   For now, enjoy The Expat that will unfold right before your eyes & ears.  
By Jimmy Rae (jrae@skopemag.com)
[Rating: 4/5]