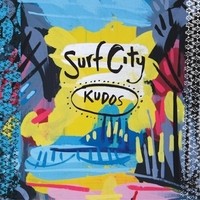 Sometimes a band just gets it. Sometimes a band comes from the far reaches of the planet (New Zealand, in this case) and make all their contemporaries look rather foolish and do so with relative ease. Sometimes a band culls from oft-plagiarized inspirations (Jesus and Mary Chain, Velvet Underground, the Spacemen) and instead writes and records an album so fresh and original that it would be a crime not to hear it. Surf City have done just that with Kudos.
Self-assured bits of splendour abound on Kudos, from the expansive and constantly evolving eight minute psych-haze of "Icy Lakes" (Which never once sounds boring or overworked) to the lo-fi snarl and stomp of "Retro." Guitar fuzz hasn't sounded so groovy in recent memory. Just a small taste of the optimistic charm of "See How The Sun" will have even the most dour of haters cracking a hopeful smile. And how could they not? There is an unmitigated charm heard on Kudos that is clearly a result of Surf City doing their thing not for snide, blog approval but for the pure joy that comes from drowning oneself in a wall of hazy, pop efficiency.
"Autumn" is as close as Kudos comes to a full own fuzz freak out, but even then, Surf City know what it take not to swamp listeners. "ICA" keeps the party rolling with its punk-inspired feel and "Teachers" features just the kind of emotional storm you'd want to get lost in. This reviewer could go on and on, but that'd be a bit unfair. After all, Kudos does eventually finish up at eleven tracks, which may be the worst part of the album: the fact that it has to end.
Joshua Kloke – joshuakloke@hotmail.com
[Rating: 4.5/5]