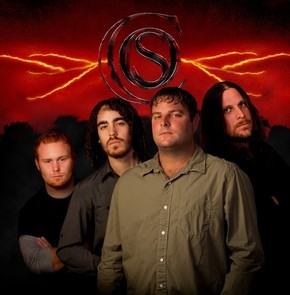 Before we get started today I just want to share a moment to honor those that were killed & injured in Tuscon, AZ on Saturday. It does not matter whether you are conservative or liberal, black or white, whatever you are please try to find a better way than violence on innocent people. Now lets get back to the music with a band that is perrfect for the mood I am in. Coming out of Reading, PA is Circle Of Sanity. These guys came together through bandmix.com and found synergy beyond the Internet. These guys rock hard with songs that acually mean something and their self-titled EP proves just that. Join us as Circle of Sanity speaks on the EP, drugs & music, unemployment benefits, and a copy of "Streets Of Madness" MP3.
Stoli: Where are we talking from today and are you excited for 2011?
COS: We're talking from Reading Pa. We are excited about 2011. We have a lot of great opportunities on the horizon for the upcoming year.
Stoli: What are two goals for the band that you would like to accomplish in 2011?
COS: Well, the goal of signing with a good label is always in the forefront but working with a great mentor like Gene Foley helps us to focus on the small, attainable goals that you need to have under your belt to make a strong presentation to a good label. Basically it's building a strong fan base in our home market, Selling a good amount of   our music and merchandise, and getting as much good exposure for the band as we can. We hope finishing our full length album can fit in there too somewhere.
Stoli: How did you all come together and decide to name the band, Circle Of Sanity?
COS: We were brought together by a website called bandmix.com. Circle of Sanity became the name because when the four of us are in a room jamming it just allows all the chaos of everyday life to fade away and restores some "Sanity" by bringing us together to do something we truly love and care about. If the listeners enjoy listening to it half as much as we enjoy writing and playing it then we'll be doing pretty well.
Stoli: Are your family & loved ones supportive of your musical aspirations?
COS:   They are for the most part. For those of us with families the prospect of us being gone for extended periods of time on tour can be a little scary for the women but at the end of the day everyone close to us wants to see us succeed.
Stoli: Where you all friends before the band and do you hang out when not playing music too?
COS: Music is what brought us together. We didn't know each other before we were playing music together. Shag and Redz had some music classes together at college before Redz joined the band but aside from that the band is why we met. We definitely hang out when we're not playing when time allows.
Stoli: Do you guys need drugs or alcohol to play music or is that stuff not important?
COS: Well, definitely don't need drugs or alcohol to do what we do. Anyone who does will be in sad shape before too long. We like to party and have a good time as much as anyone but with us it's music first and party second. Any band that has those roles reversed won't be around too long in today's industry.
Stoli: I was very excited about the EP you put out. How did you choose the 5 songs for that disc and where can readers grab a copy?
COS: We chose these five songs because we felt like they best represented the range of sound that we're able to produce. With songs like "Pictures" and "Sister" being straight down the middle rock songs, then "The Oath" and "Streets of Madness" showing our harder edge metal side, and of course the epic ballad that is "Wicked Savior" to round it out. Readers can get copies by download from just about any major download site including Itunes, Amazon, Zune, etc… If they want a cd they can order one from cdbaby.com.
Circle Of Sanity "Streets Of Madness" MP3:
Stoli: I love the song, "Streets Of Madness." What was the meaning behind that song when you wrote it?
COS: "Streets of Madness" is about how the world seems to be racing toward its demise. Everyone and everything is moving so fast these days and it just seems like the faster we go the faster we create more problems that we're not equipped to handle.
Stoli: You guys are based in Reading, PA. Where do you guys play live around your area?
COS: We've played at venues like The Silo, Mac's Club, The Yankee Club, Gear Jammers, Blind Hartmans, etc.. We played at the Millennium Music Conference last year in Harrisburg and we were invited back this year. The dates are February 17th — 20th. We don't know what venue we'll be playing yet so be sure to keep an eye on our schedule or google the Millennium Conference to see what venue we'll be playing.
Stoli: How much time per week do you devote to rehearsal and do you have jobs as well?
COS: We generally practice twice a week unless a show takes the place of the weekend practice. We do have jobs but we're hoping to be able to sustain ourselves on the music in the coming year.
Stoli: Do you think that the US government owes it to the unemployed to extend benefits as long as needed?
COS: We feel like if they're ok with bailing out the huge companies and financial institutions then they should be helping the everyday workers as well.
Stoli: What is coming up for Circle of Sanity and where can we follow you online?
COS: This year our goals are to book as many shows as we can and hopefully finish and release a full length album. Fans can follow us at www.circleofsanity.com (which is currently under construction but should be done soon). www.myspace.com/circleofsanity. Facebook and Twitter.