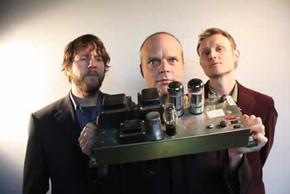 Medeski Martin & Wood in association with Nevessa Production are proud to announce two very special live webcasts on June 9 & 10, 2010 at 7PM EDT each night. The performances will stream from Nevessa Soundstage near Woodstock, NY.
The June 9 webcast will feature a concert performance, consisting of two 60 minute sets, in an intimate setting. MMW will perform music from their Radiolarians series in addition to a fully improvised set.
The June 10 webcast consists of a Master Class hosted by MMW where the band will illustrate the different ways they use composition to lend structure to interactive group improvisation. The web audience can interact directly with the band by submitting questions and comments live via Facebook and Twitter. Instructions for these features will be provided with purchase.
Tickets for this two-day, in-home concert experience are available for $24.95. This includes access to the live stream as well as a one-month period of on-demand streaming.