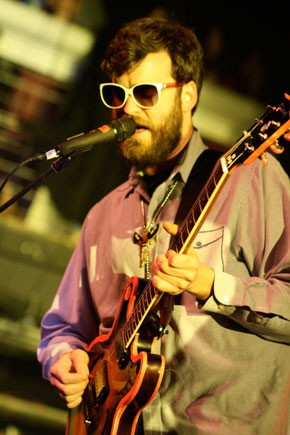 Dr. Dog played host to a packed crowd at New York's Terminal 5 to promote their new album Shame, Shame. The show offered up more proof that Dr. Dog are one of the best and most popular live bands around today.

The rooftop BBQ gave the evening a summertime party vibe that always follows the Dog. The crowd was huddled close together in the always overbooked venue and the excitement as well as the warm smell of colitas was in the air. There were even a few girls on guys shoulders – old school rock n' roll style.
Deer Tick appeared in full drag taking claim to the title of Dr Dog's bitches on this the last night of the US tour. When Dr Dog took the stage fans of the band couldn't help but notice the instant chemistry between new drummer Slick and bassist Leaman. Dr Dog's new rhythm section tore up song after song rumbling stomachs all the way to the back of the room.
Before launching into "Shadow People" McMicken told the crowd "This is the last night on this tour" and "This is the biggest show we've ever played" Indeed the band has arrived and with that the band performed stunning versions of the crowd favorite The Breeze complete with spot on background vocals by McElroy and company.
Dr Dog finished the set with "Shame, Shame" and after a short break McMicken was back on stage addressing the crowd like a group of his buddies. "I saw my parents out there, I spotted them. Hi Mom!" before breaking into the encore "Jackie Wants A Black Eye". Some guy was even escorted up onstage to ask his girlfriend Sally to marry him. She said yes and the band invited their roadie Bruce on stage further demonstrating The Dr Dog family is indeed a family. The evening concluded with the band storming through the Architecture In Helsinki hit Heart It Races before finishing with "My Friend". If you saw the show then you are lucky and if you missed it there is always next time.
By Greg Jacquin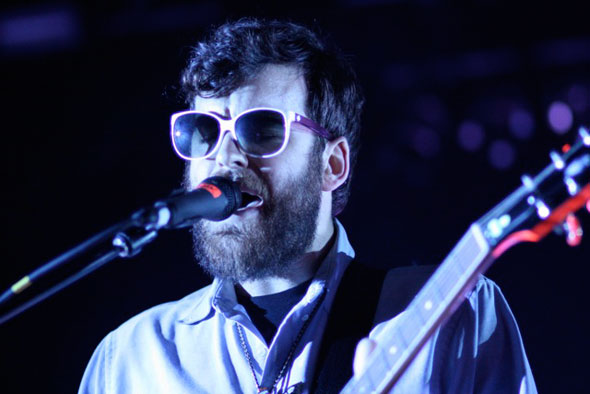 Dr Dog Set List Terminal 5 2010
——————–
Stranger
I Only Wear Blue
The Old Days
Army of Ancient
Mirror, Mirror
The Ark
The Rabbit, The Bat, The Reindeer
Hang On
Unbearable Why
Station
Shadow People
Shoulda Known Better
Where'd All The Time Go
The Beach
The Breeze
Changes
Later
Shame, Shame
——————–
Encore:
Jackie Wants a Black Eye
Architecture in Helsinki cover
My Friend