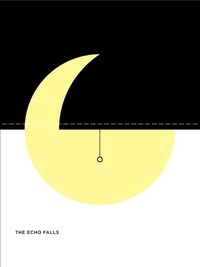 The Echo Falls swoon with the kind of classic pop sensibilities that you can't help but find endearing. In small doses. After all, overplaying The Echo Falls is a weighty risk. Too much exposure to surefire acoustic gems like "Hummingbird" is a threat to the track's honest and precious sentiment. There's no shortage of romantic singer-songwriters out there; while Alex Mandel fronts this three piece, you can't help but feel as if this is his project, first and foremost. And while his songs never get all cheesy on listeners, there's moments on The Echo Falls when
verges on adult-contemporary.
Perhaps it's a fear that drives my assumptions about Mandel and The Echo Falls. Throughout the rambling, ever-present acoustic shuffle of "Fire Down Below," Mandel begins to sound a little like Nick Drake. And you can't help but appreciate that and want to keep things that way. The Echo Falls is not a catchy listen, but just moody enough to entice listeners that find Drake a little to brooding.
By Joshua Kloke
[Rating: 2.5/5]