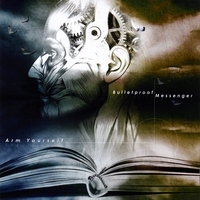 Prepare yourself for a fistful of heavy rock joints that will leave a lasting impression on you.   Bulletproof Messenger (BPM) are setting aim to explode amongst the music community.   This rock band asks you, the listeners, to Arm Yourself with good music and solid knowledge.   Not too much to ask I think as this group attempts to spread their bulletproof message to the masses.
BPM has an interesting history as they actually started under a different name, which was Gone To Earth (GTE).   Founding members at that time were: DJ/Programmer Matt Litwin, bassist John Rieger and guitarist Jon Maisel.   And then came the creation of Bulletproof Messenger thanks in part to Litwin and Voley Martin–then drummer and current guitarist.   Rounding out the group includes some powerhouse vocals from Marcus Klavan who adds such a BIG dynamic to the overall sound.   Jesse Downing handles the bass lines while another guitarist is added to the mix–Scott Martin.   I can't forget to mention the talents of former drummer Alex Straiter who added so much toward the success of this band.  
Arm Yourself   is the exciting follow-up to their debut release, The Crucial Line.   This EP of four hard-hittin' rock jams gives you a little taste of what's to come.   And after hearing these four tracks, I'm extremely psyched to hear the full length album now—I CAN'T WAIT!!!   I feel BPM are about to blow up on the music scene because they seem to have the total package.   You get an edgy hard rock sound that is accompanied by some very fresh electronic/DJ effects from Matt Litwin.   These effects give off a nice hip-hop touch and blend in perfectly with Marcus Klavan's melodically-driven vocals.   I couldn't help but think of band I'm a big fan of myself and you might have heard of also; Linkin Park.   Both guitarists, Voley Martin & Scott Martin were absolutely killin' it with their blazing hot guitar parts.   The drums packed a punch and the bass sections were just right as Bulletproof Messenger come together as ONE to give you an A+ recording session.
Interesting to note that this entire project was fully funded by individual investors/supporters from all around the world thanks in part to Sellaband.com.   Not to mention, BPM was the very first band selected for Sellaband/Arenaworks Entertainment's "Arenafest 2009".   Other impressive accolades include: being selected by Incubus to tour as their opener, tours with Trapt, Adema and Blindside and even a direct spot as the opening act for Collective Soul.   They were even selected by XM Satellite Radio as one of the Top 50 unsigned acts in the country.   This rock-solid group from NY has accomplished a lot already, but I feel they have a ton more to prove.   For more on Bulletproof Messenger and their new release, Arm Yourself, SKOPE out www.myspace.com/bulletproofmessenger.  
By Jimmy Rae
[Rating: 4.5/5]