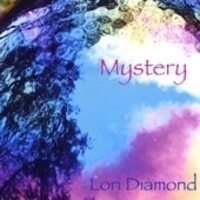 I introduce to you 1-of-A-Kind–Lori Diamond from Boston.   This singer/songwriter/pianist has such a pure & genuine quality to her voice.   Not to mention, this talented artist throws in stellar piano playing to complete the entire Mystery.   It is no surprise that this Bostonian sings & plays from the heart at all times on this record.   There is so much feeling & emotion being conveyed here that the music itself truly glistens.  
Lori Diamond is the lead singer & pianist on this new album along with being the main songwriter and co-producer.   All but two songs on Mystery were written by Diamond and one track titled "The Way You Look At Me" was co-written by Lori and guitarist/bassist, Fred Abatelli.   Abatelli is the other crucial half that helped make this recording possible.   One other very important piece to this puzzle would be Eric Kilburn who played the role of co-producer & multi-instrumentalist.   Kilburn is also responsible for mixing & recording the new record.   There are many other talented musicians featured on the new album that help make Lori Diamond shine even brighter.  
The overall feel of this album is a very relaxing/soothing tone that really puts the listener at ease.   The music is a combination of jazz, pop, folk and blues that makes up an adult contemporary style.   The music is extremely soft 'n' tender while at the same being very powerful.   Her powerfully subtle approach is what makes the Mystery so special.   Diamond feeds off of emotions in a major way to where the listener is hanging on to every note & word.   Lori's voice appeals to you in such a dramatic way to where you almost feel mesmerized by her vocal performance.   Put together angelic vocals & joyful piano chords and you have in your hands a Mystery that can be solved.   What I find out about Lori Diamond in the end is that she is one dedicated & resourceful artist.   Her heartfelt songs and passionate spirit will leave you with a feeling of goodness inside.  
I am impressed with the musicianship and artistry displayed here because you are not just hearing her but you are feeling her too.   This Diamond is cut just right and will leave you gleaming in the end.   I only wish I could have heard some more upbeat songs because I could tell Lori has the BIG vocals to really belt out a POWER performance.   I understand though that the light 'n' airy mood was set specifically for this album.   Anything else would have been inappropriate I suppose.   Lori Diamond & company really nailed the overall tone & feel on this new project.   One serious artist here and one serious album here as I highly recommend fully taking in Mystery.   For more on Lori Diamond and her new release, SKOPE out www.loridiamond.net.  
By Jimmy Rae
[Rating: 4/5]