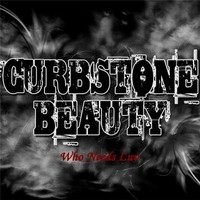 Good music is definitely hard to find these days, and that can be said for all genres of music across the board –hip hop, country, rock, etc. It's been a long time since I've heard a band like Curbstone Beauty, which brings back some original sound, especially one that reminds me of what I'll call "throwback rock".
Evident in the very first track off the band's 6-track EP, "Who Needs Luv", the song "Wake Up" sounds like the throwback rock of the '80s and '90s, when rock coincided with the times when girls wore side ponytails and the over-sized shirts, and the guys rocked jeans with a million holes in them. These were the times when Guns N' Roses were big and people were carefree. Upbeat and fast-paced, "Wake Up" is very catchy, especially in the chorus that begins, "oooooooooh wake up!"
The band, which consists of lead singer Kyle Torpey, drummer twin brother Evan Torpey, guitarist Scott Beckman and bassist Patrick Laabs, came together in 2006 in Detroit. What's interesting is how the band got their name. According to the band's bio, they got their name from a homeless man in their town.
"The band saw the man as he picked up a finished cigarette on the side of the street, and watched him proceeded to smoke what was left. Evan approached the man while loading up his drums and offered him some new cigarettes. The man refused and replied, 'I'm just looking for a little Curbstone Beauty'."
Pretty cool.
To date, Curbstone Beauty has opened for the likes of 7 Mary Three, Anvil and Brett Michaels (Poison), amongst others. Making a name for themselves and spreading their love for music is very apparent in their sound.
Though their music is mostly quick and upbeat on "Who Needs Luv", they end their EP with a slower, more acoustic-like song, "Pain", which makes the album well-rounded. Kyle belts out, "…Too much, too much for me to swallow. Too much, too much pain. Trust that I turn back, I walk away. And I'll be just fine."
A delight to listen to, Curbstone Beauty can be easily defined as throwback rock.
For more on Curbstone Beauty, visit www.myspace.com/CurbstoneBeauty.
Author: Erika Y. Gradecki
[Rating: 4.5/5]